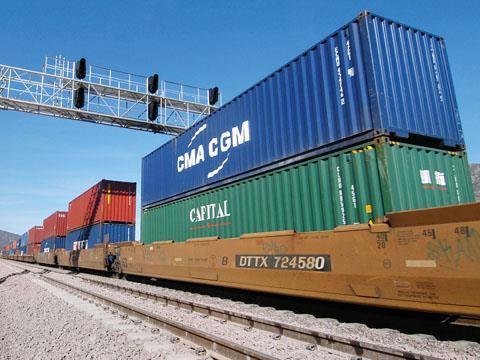 The Union Pacific board has approved a $100m increase in 2010 capital spending to $2·6bn, with the additional money being spent on equipment for intermodal traffic, which grew 8% last year despite the recession.
On May 24 UIC and the United Nations Economic Commission for Europe signed a memorandum covering the exchange of information and expertise, and cross-participation at events on legislation, interoperability, trans-boundary management, priority corridors, accessibility, security and rail safety.
Sudanese Railway Corp has signed an agreement giving Citadel Capital's Nile Valley Railways rights to provide freight services on SRC lines on a revenue sharing basis (RG 5.10 p28).
DB Schenker Rail Bulgaria has received a traction licence enabling it to offer main line haulage in addition to its existing shunting services. The first operations will be on behalf of copper producer Aurubis.
The Dutch Transport Ministry is paying Arriva to provide free travel between Geldermalsen and Gorinchem while a section of the A2 motorway is closed for maintenance.
Following a restructuring, the Czech Republic's largest private rail operator OKD Doprava was renamed Advanced World Transport on May 1, with its subsidiaries becoming AWT Cecho-fracht, AWT Spedi-Trans, AWT BlueTrucks, AWT VADS and AWT Hungary.
Dutch infrastructure manager ProRail has proposed halving the number of turnouts on the rail network from 75000 to reduce their €100m annual maintenance cost and the cause of many infrastructure defects and train delays, especially in winter. NS would be required to simplify its timetable.