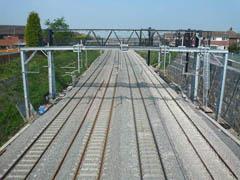 OTIF is consulting on harmonising RID regulations on dangerous goods with global UN recommendations. The main changes concern piggyback transport, hand and checked luggage and written emergency instructions for train drivers.
POTA Holdings has acquired Australian short line and terminal operator South Spur Rail Services from Coote Industrial for A$26·5m.
Infrastructure Australia included rail projects worth A$2·9bn within its A$18·2bn list of port, rail and road projects meeting its economic criteria.
Plans for a 4·6 km rail link to Cape Town airport have been put on hold because of difficulties structuring a R2·1bn funding package and low patronage on the existing bus service.
On July 21 French infrastructure manager RFF issued the final tender documents for the PPP contract to build and maintain LGV Bretagne-Pays de la Loire between Le Mans and Rennes. Three shortlisted consortia led by Bouygues, Vinci and Eiffage are due to submit final offers in October, with a preferred bidder named by the end of the year.
Outlook Research has undertaken a usability study of ticket vending machines on behalf of four UK train operators and watchdog Passenger Focus, looking at difficulties passengers have with user interfaces and recommending changes to screen colours, layouts and information provision.
Electrification of the Plzen – Ceské Budejovice – Wien route was completed with the start of electric services on the 50 km single-track line from Ceské Budejovice to the Austrian border at Ceské Velenice on June 11. The KC1·9bn cost was partly met from the EU's Cohesion Fund.
The Cusco – Machu Picchu line in Peru reopened on July 1 following repairs to Janauary's flood damage.
The UK government has granted Network Rail legal powers to build the 1 km Nuneaton North Chord. To be completed in 2012, this will allow freight trains from the port of Felixstowe to access the West Coast Main Line without crossing the fast lines on the level.
A study by British Columbia and the Island Corridor Foundation partnership has found traffic levels on the 289 km E&N Rail Line Corridor on Vancouver Island 'do not support significant infrastructure investment at this time.' Development is dependent on population and industrial growth and transit-oriented development.