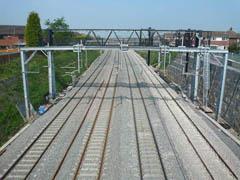 In the first half of 2010 Russian Railways spent 348m roubles on infrastructure works to convert the rail network on the island of Sakhalin from 1067 to 1520 mm gauge.
Revisions bringing appendices E, F and G of the Cotif convention which concern infrastructure and technical approvals into line with EU law have been agreed and will come into force on December 1.
Patriot Rail Corp has agreed to purchase the US short line assets of Weyerhaeuser Co by the end this year. The six lines in four states total 260 km and handle 60000 carloads of freight a year. 'These railroads will double the rail portfolio of Patriot Rail', said Chairman, President & CEO Garry O Marino. 'They are very attractive railroads with appealing growth opportunities and are a key step in our company's strategic growth process.'
Work begins this month to upgrade 145 km of Union Pacific track between Alton and Springfield in Illinois to allow Chicago – St Louis passenger services to run at up to 177 km/h. The $98m project is being funded through the federal American Recovery & Reinvestment Act. Additional track and signalling upgrades and new rolling stock will cut Chicago – St Louis journey times to under 4 h.
An inaugural train on July 2 marked the formal completion of the €5m project to reopen the 16 km line from Harrachov in the Czech Republic to Szklarska Poreba in Poland, closed since 1945. Viamont and Poland's PR will begin regular passenger services in December.
The US Federal Railroad Administration has received applications from 25 states for High-Speed Intercity Passenger Rail programme funding. The applications cover 20 high-speed rail corridor plans and 57 individual projects to cut journey times. They total $8·5bn, however only $2·35bn was appropriated by Congress for grants in the current fiscal year.
Groundbreaking for San Francisco's $4·2bn Transbay Transit Terminal was held on August 11. The 1939 building will be replaced with a five-story building serving bus and coach passengers with the lower level having provision for a Caltrain commuter rail extension and platforms for the proposed high speed rail line. The first phase of the terminal is scheduled to open in August 2017.