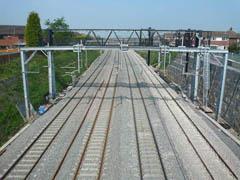 The OFP La Rochelle joint venture of EuroCargo Rail and the Port of La Rochelle became the first of the new French port railway companies to begin operations on October 8.
CSX opened the Liberty Corridor Freightway on October 8, providing a route for double-stack trains from the port of New York & New Jersey. The gauge-enhancement PPP was funded by CSX, New Jersey and the Port Authority.
Passenger Rail Agency of South Africa is looking for a 'strategic equity partner' for its property management subsidiary Intersite, to finance operations and expansion (RG 10.10 p30).
Applications for shares in QR National close on November 12. The price will be between A$2·50 and A$3·00, with individual investors getting an A$0·10 discount, paying no more than A$2·80 and receiving bonus shares if they retain their holdings until December 7 2011.
On September 30 DB launched work to electrify the 74 km Reichenbach – Hof line by 2013 at a cost of €120m. On the same day DB completed extension of electrification south of Leipzig by 18 km from Borna to Geithain as part of the City-Tunnel project.
EIB is providing Croatia with a €200m loan towards a range of EU pre-accession projects totalling €800m, including railway infrastructure works.
SBB is to build an operations control centre in Olten by 2014, one of four to manage the entire network. It will absorb the current control room in Luzern from 2016, employing 350 staff. Lausanne control centre opened on May 1, Zürich will be ready by the end of the year and Pollegio opens in 2014.
Kenya Railways Corp has secured World Bank funding of US$11m to move up to 5000 squatter households encroaching on the railway in Nairobi.
Nahverkehrsservice Sachsen-Anhalt is to award DB Regio the Netz Nord passenger operating contract directly, and will tender the Netzen Anhalt-Wittenberg and Saale-Thüringen-Südharz.
DB is to double track the Oldenburg – Wilhelmshaven line as part of the Jade-WeserPort development on Germany's Niedersachsen coast which is expected to lead to traffic between Oldenburg and Sande increasing to 130 trains a day.