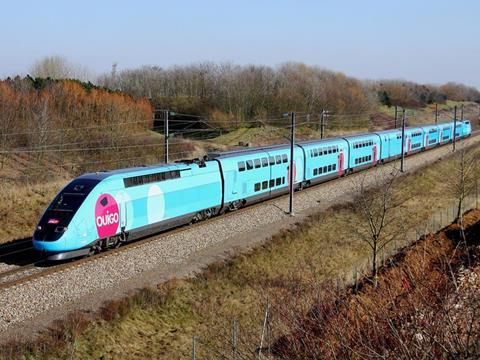 Germany's Federal Railway Office has certified DB Systemtechnik as a train operator in its own right. The operation of test and measurement trains had previously been undertaken by parent company DB.
As Ouigo low-cost TGV services began operating between Marne-la-Vallée, Marseille and Montpellier on April 2, SNCF announced that more than 200000 tickets had been sold since bookings opened on February 19. With over 80% of customers able to obtain fares of less than €25, www.ouigo.com had recorded over 2·1 million unique visitors in the same period.
Arriva RP has been awarded two contracts to operate regional passenger services on around two-thirds of the electrified routes in Poland's Kujawsko-Pomorskie voivodship for two years from December 2013. It already operates non-electrified routes under a 10-year contract signed in 2009. Arriva RP will be paid 10·38 złoty per train-km for services from Torun to Kutno and Iawa, and 11·82 złoty for Bydgoszcz to Tczew and Wyrzysk Osiek. Arriva RP has sent a letter of intent to take on staff from incumbent PR.
Bids were due to be submitted to RFI on April 19 for a major resignalling and infrastructure upgrade project in the Roma area valued at around €150m. The project includes an integrated control centre similar to the one in Bologna equipped by Alstom.
A public enquiry for electrification of the Paris - Troyes line and the Longueville - Provins branch was held last month. Construction is planned to start in 2014.
Deutsche Bahn is to install wi-fi on all ICE trainsets by the end of 2014.
SNCF has opened in Paris the first of the new-look travel centres that it is to provide at major stations, shopping centres and in city centres. Customers are welcomed individually and guided to touch screens for obtaining timetable information or sales assistants for more complex transactions. The next locations planned to open are at Montpellier station, in Tours and Villeneuve d'Ascq.