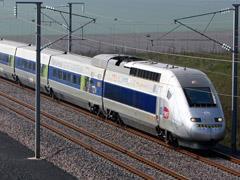 FRANCE: The national and regional governments signed an agreement on December 2 setting out funding arrangements for construction of the Nîmes - Montpellier bypass and paving the way for the start of construction.
The 80 km mixed-traffic route will form an extension of the south-western branch of LGV Méditerranée towards the Spanish border, and will also provide a freight bypass around the two towns as part of European freight corridor D (Valencia - Lyon - Torino - Budapest).
It is expected to release paths on the existing main line for additional regional passenger services. To complement this expansion, studies have been commissioned into the re-opening to passengers of the 'right bank' line along the Rhône valley which currently forms the main freight corridor between Nîmes and Lyon.
The total cost of the project is now put at €1·6bn. Following the signing of the financing agreement, RFF is expected to open negotiations on December 18 with the three consortia led by Bouygues TP, Vinci and Eiffage which have submitted PPP bids for construction of the new line.
The parties to the financing agreement include the regions of Languedoc-Rousillon and Gard, the municipalities of Montpellier and Nîmes and infrastructure manager RFF.