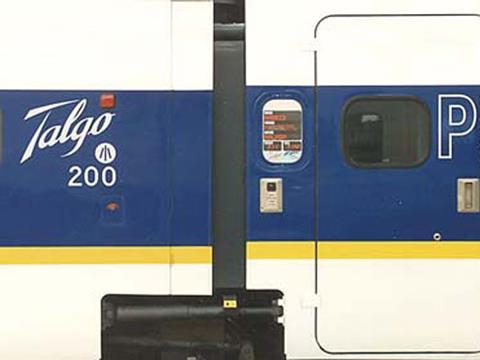 USA: Oregon Department of Transportation has announced an $36·6m order for two 13-car passenger trainsets to be supplied by Talgo America for use on Amtrak's Cascades service from 2012.
The Eugene - Vancouver route is currently operated using three Talgo Pendular 200 sets owned by the state of Washington and two belonging to Amtrak, but Washington wants to increase Portland - Seattle services and so these would no longer be available to Oregon.
The new trainsets will be updated versions of the current stock, offering 285 seats, wi-fi, a bistro car, business class accommodation and bicycle racks. They will be suitable for operation with any diesel locomotive and will have a design speed of 200 km/h, although the corridor's current top speed is 127 km/h.
ODOT is funding the order with federal American Recovery & Reinvestment Act stimulus money. It says it will save $6m by pooling resources with Wisconsin, which last year announced a $47·5m order for two 14-car Talgo trains for use on Chicago - Milwaukee services from 2011.
Wisconsin required Talgo to assemble its cars in the state, and after studying options the firm has opted to use a disused automotive plant in Milwaukee. Assembly work will begin in November, and Talgo expects to recruit around 125 local workers and support 450 jobs at subsuppliers.