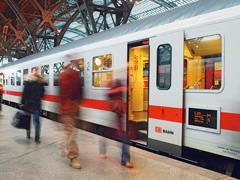 Gerald Hörster was formally installed as President of Germany's Federal Railway Office (EBA) by Parliamentary State Secretary Achim Grossmann at a ceremony in Bonn on March 9. Appointed by Federal Transport Minister Wolfgang Tiefensee on January 22, Hörster succeeds Dipl-Ing Armin Keppel, who retired in December. After training as a lawyer, Hörster began his career with DB, but moved in 1986 to the transport ministry, where he held a variety of posts, most recently as head of the department for investment planning and financing of rail infrastructure.
Indonesia's State Owned Enterprise Ministry has appointed new directors at state railway company PT KAI, with the aim of improving performance. Ignasius Jonan, formerly a Managing Director at Citicorp, replaces Ronny Wahyudi as President following Wahyudi's move to the board at state-owned rolling stock manufacturer PT INKA. Soedharmo Ramadhan has been promoted from Director, Operations, to Vice-President, while Sulistyo Wimbo Hardjito is a new appointment to the board.
The directors will continue with the current train rehabilitation programme, and will focus on revitalising the South Sumatra rail network to increase capacity for the transport of coal.
Mikael Aro is to succeed Henri Kuitunen as CEO at Finnish state railway VR Group; Pertti Saarela will assume the post of acting CEO until Aro is available to start in the summer.
A K Goyal has been appointed to the Indian Railways Board as Member, Staff; he was previously General Manager at East Coast Railway.
Peter Button has left Amey's UK rail group to join Parsons Brinckerhoff's rail business as Europe & Africa Business Development Director.
David Marchant, CEO of Australian Rail Track Corp, has been named Chairman of the Australasian Railway Association.
Arthur Leahy will succeed Roger Snoble as CEO at Los Angeles County MTA on April 6.
Roger McDonald has joined onboard point-of-sale technology supplier Onboard Retail Solutions as its Rail Industry Advisor.
Francis Mulvey has been appointed acting Chairman of the Surface Transportation Board by US President Barack Obama. He succeeds Charles Nottingham, who will remain as a board member until the end of next year.
Chris Wells has been appointed acting Group CEO at South African transport holding company Transnet following Maria Ramos' decision to leave (RG 1.09 p54).
Christopher Hohn has announced he will not stand for re-election to the CSX board this year, having fought a long legal battle to join the board in 2008 (RG 11.08 p910).
Tim O'Toole is to step down from his post as Managing Director of London Underground at the end of this month.
Mikaël Lemarchand has been named Director, Rail Development, at French public transport operator Keolis.
Ian Dobbs has left his post as CEO at Stagecoach Group Rail Division. His duties will be shared by Stagecoach Chief Executive Brian Souter and Group Finance Director Martin Griffiths.
Zdenek Zák has succeeded Vojtech Kocourek as Chairman of Czech Railways. In further appointments, Petr Vohralík has been named Finance Director and Ladislav Mikes has taken over from Michal Fantl as Safety & Crisis Management Director.
Zoran Popovac has replaced Davorin Kobak as Chairman of HZ, Croatia's state-owned railway.
Alison Forster has left her position as Safety & Performance Director of the Rail Division at FirstGroup.
Andrej Godec has been selected as Chairman of Slovenian Railways during the founding session of the state-owned company's supervisory board. Matic Tasic has been appointed Director General following the resignation of Tomaz Schara, and Deputy General Manager Branko Omerzu has offered his resignation.
Isabelle Duval is to become European Director at voyages-sncf.com.
Phillip Hall has been appointed Senior Vice-President at HSH Nord­bank, where he will head the Middle East & Asia Infrastructure & Rail segment of the business.
Jean-Louis Demeulenaere has been named Deputy CEO of SNCF's recently-restructured transport and logistics division. Luc Nadal has been named Senior Vice-President with responsibility for the rail sector, including Fret SNCF.
Steve Cantwell has stepped down from his post as Group Executive General Manager QR Freight, Acting CEO & Chief Operating Officer at Queensland Rail to establish a transport and logistics consultancy.
Richard Rodriguez has replaced Ron Huberman as President of the Chicago Transit Authority.
Dr Christian Kuhn has left the board at DB Schenker Rail, citing personal reasons.
Ron Tober has been appointed Deputy CEO at Seattle public transport operator Sound Transit.
Jean-Louis Ricaud has been named Chief Operating Officer at Alstom Transport.
Dr John Sutton has been appointed Director, Operations Analysis, at Systra USA.