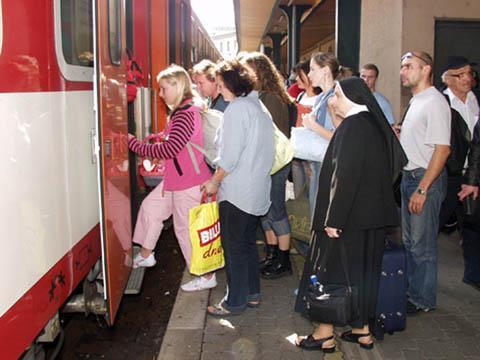 Recently-appointed Pres­i­dent of national rail operator RENFE Operadora, Teófilo Serrano has named four additional members of the company's executive management board. Enrique Urkijo Goitia becomes Director General of Strategic Development, Avelino Castro López Director General of Construction & Maintenance, Francisco Celso González Director General of Economics & Finance, and Jésus Parralejo Director of Communications & Marketing. Other board members are Secretary General José Luis Marroquín, Director General of Security & Human Resources Ángel Jiménez, Director General of High Speed & Long Distance Services Abelardo Carrillo, Director General of Suburban & Medium-Distance Services Javier Pérez, and Director General of Freight Services & Logistics Francisco Bonache.
Dr Volker Kefer has been nominated to join the DB executive board as Technical Director, subject to ratification by the company's supervisory board on September 9. He was previously head of the German railway's infrastructure business DB Netz.
Rolf Jansson has been appointed Director of Corporate Development at VR Group, joining the Finnish rail operator from Nordea Corporate Finance. Simon Indola becomes Director of Procurement on September 1, joining from ?Nokia Siemens Networks. Tapio Simos has stepped down as CEO of train operator VR Ltd and is replaced by VR Group CEO Mikael Aro, pending an extensive restructuring of VR Group with effect from January 1 2010.
David Ebbrecht has been named Senior Vice-President, Operations, at Kansas City Southern Railway in succession to Scott Arvidson, and will report to President & CEO David Starling. Former Vice-President, Transportation, Ebbrecht had been expected to succeed William Nolen, who will now continue to act as Senior Vice-President, Operations, at KCS de México, reporting to President Jose G Zozaya.
Rick Haythornthwaite was confirmed as non-executive Chairman of Network Rail on July 23 following the UK infrastructure company's AGM. He succeeds Sir Ian McAllister who has retired. Steve Russell has been named as Senior Non-Executive Director following the departure of Jim Cornell from the NR board.
Thomas Cornillie has joined Amtrak as Infrastructure Planning Officer, based in California. He was previously project manager for commuter rail development at the Ann Arbor Transportation Authority.
Branimir Jerneic has been appointed as head of the infrastructure division at HŽ in Croatia, replacing Mijat Kurtušic who was dismissed following the fatal derailment of a tilting train near Split on July 24.
Adeseyi Sijuwade has taken over as Managing ?Director of Nigerian Railway Corp. A chartered civil engineer and project management consultant, he succeeds Mazi Jetson Nwankwo.
Daniel Leuenberger has been named as Chief Information Officer for Swiss railway operator BLS AG.
Dr Alexander Hedderich takes over as Head of DB Schenker Rail on September 1, in succession to Dr Klaus Kremper who is leaving the company. Formerly Head of Corporate Development for the DB group, Hedderich also takes over Kremper's seat on the DB Executive Board. Stephan Strauss and Gerhard Holzmüller join DB Schenker Rail on the same date, to head the Construction, Industry & Consumer Goods business and the Central Region operations unit respectively. Both will report to DB Schenker Rail Operations Director Karsten Sachsenröder.
Dirk Fischer has been named Chairman of Veolia subsidiary Ostseeland Verkehr, replacing Tobias Kretschmer who has held the post since Jan Bleis moved to Sachsen last year.
Eurostar Chief Executive Richard Brown is to become non-executive Chairman of Eurostar International Ltd when the corporate restructuring is completed next year (RG 8.09 p19), succeeding SNCF President Guillaume Pepy who has been Chairman of the joint venture since 1998. Chief Operating Officer Nicolas Petrovic will become Chief Executive.
Gratian Calin has resigned as General Manager of Romanian freight operator CFR Marfa to become Development Director at Rail Cargo Austria, where he will oversee RCA's expansion in eastern Europe.
South African Public Enterprises Minister Barbara Hogan has appointed Prof Geoff Everingham as Acting Chairman of Transnet, following the retirement of Fred Phaswana.
On July 23 the board of RATP in Paris confirmed the reappointment of Pierre Mongin as President for a further term of office. Christian Galivel has been named Director of Rolling Stock Maintenance.
Daniel Grabauskas has resigned as General Manager of Massachussetts Bay Transportation Authority in Boston, and has been replaced on an interim basis by MBTA's General Counsel William Mitchell.
Jürgen Strippel has been appointed Head of Rolling Stock Maintenance at S-Bahn Berlin GmbH in place of Nils Fischer-Cornelsen, having held the same post at S-Bahn München.
James Burt is to join UK franchise operator Southern as Service Delivery Director following the start of the new South Central franchise on September 20; he was Customer Service Director for First Great Western.
Joseph Lai Yee-tak has been named Commissioner of Transport in Hong Kong, succeeding Alan Wong Chi-kong from August 17; he is also a non-executive Director of MTR Corp.
Alexander Tsvetkov has been nominated as the new Minister of Transport in Bulgaria; he was previously Deputy Mayor of Sofia in charge of transport and communications.
UK MEP Brian Simpson has been elected to chair the European Parliament's Transport Committee.
Olivier Colla, Director of Strategic Planning at Brussels public transport operator STIB, has died.