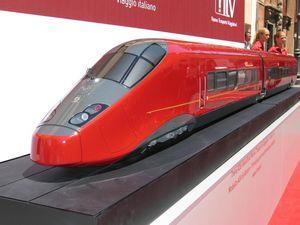 ITALY: Open access passenger operator NTV has selected SNCF as its 'industrial partner' to support its launch of domestic high speed trains in 2011. NTV Chairman Luca di Montezemolo and SNCF President Guillaume Pepy announced in Roma that they had signed an deal under which the French national railway will take a 20% stake in the consortium.
NTV revealed in September that it was looking for a potential partner to provide additional experience of high speed operations, and reportedly held talks with Deutsche Bahn as well as SNCF. Under the agreement, SNCF will appoint two members of the 14-strong NTV board. Pepy would not say how much SNCF is paying , but Intesso Saopaulo paid €60m for its 20% stake when it bought into NTV in January.
Di Montezemolo said the exclusive agreement ensured that SNCF would not become involved with any other high speed train operations in Italy. As well as incumbent operator Trenitalia, other groups are reported to be looking at the market including Italian entrepreneur Carlo Toto who owns Air One and is part of the consortium bidding for Alitalia.
Pepy is keen to expand SNCF's international reach in competition with DB, and is negotiating with both established operators and new entrants. He believes the alliance with NTV could also form a platform for further expansion in Europe.