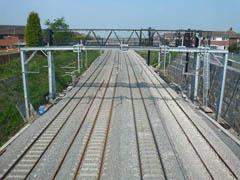 SLEEPERS: A service life of at least 50 years is expected from the Eslon Neo Lumber FFU Polyurethane sleepers which Voestalpine has installed on private sidings serving a chemical plant at Leverkusen in Germany.
The 74 m turnout has 136 sleepers between 2 200 and 4 500 mm long. They were produced by Japanese firm Sekisui Chemical, using long-fibre reinforced Baydur 60 integral skin foam from Sumika Bayer Urethane Co.
Components up to 9 600 mm long can be produced. They can be sawn, milled, screwed and nailed with the same tools used for timber processing. Individual sleepers can be replaced when needed, and the material can be recycled. The closed-cell structure absorbs very little water, so electrical insulating properties are not impaired, and it is resistant to grease, oil and de-icing salts.
The manufacturer says the flexural strength is significantly higher than wood, even after 15 years. Long-term load tests found that wooden sleepers failed at pressures of 40 MPa after around 50 000 cycles, but polyurethane sleepers managed 1 million cycles at 94 MPa. 'The polyurethane material looks like wood and combines all the positive properties of the natural product with those of a modern composite product', said Thorsten Eschmeier of BaySystems.
More than 90 000 polyurethane sleepers are laid every year in Japan, with more than 1·3 million already installed.