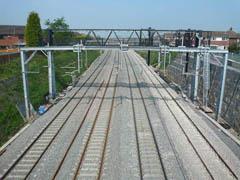 Australian Rail Track Corp has released the first stage of a federally-funded study into the proposed Inland Railway between Melbourne and Brisbane. The 1 900 km route would follow existing lines via Albury to North Star, from where new track would be laid to Toowoomba and Brisbane. Capital cost would be A$2·8bn to A$3·6bn.
Director-General of Royal Cambodian Railways Sokhom Pheakvanmoney confirmed last month that the government had appointed China Railway Group to undertake feasibility studies for the proposed 255 km Trans-Asean rail link from Bat Doeng to the Vietnamese border at Snuol. He hoped that construction of the line, costed at US$700m could start within two years.
The Lyon Chamber of Commerce and the Regional Chamber of Commerce & Industry for Rhône-Alpes have published outline proposals for development of the region's rail network over the next 30 years.
According to East West Line Parks Pty, 19 steel manufacturers have agreed to fund an A$145m feasibility study for the A$16·5bn Iron Boomerang project to build a 3 300 km railway linking the Pilbara iron ore mines with the Bowen Basin coalfield in Queensland. The railway would shift an estimated 53 million tonnes of iron ore from west to east, coking coal from east to west and iron and steel slabs for export markets.
Canadian Pacific and Kansas City Southern are reported to be discussing a partnership agreement, which would give CPR access to the Gulf of Mexico and KCS better access to Chicago. This would make use of CPR's Dakota, Minnesota & Eastern route which connects with KCS in Kansas City.
The transport ministry in Macedonia has invited international tenders for the operation of rail passenger services which are designated to be of 'public interest'. Bids were due by June 3.
Armenian railway concessionaire South Caucasus Railway has indicated that it is ready to re-open the cross-border rail link to Turkey, in conjunction with the creation of an international logistics terminal at Gyumri-Akhuryan.