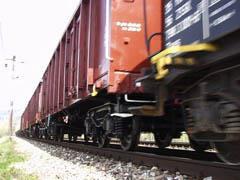 Hoeft & Wessel's Almex business unit is to supply 720 stationary ticket vending machines to Genève transport operator TPG. The TVMs will be powered by solar cells and operate independently of the power grid.
Structural Composites of Indiana has been trialling a fibreglass cover for mineral hopper wagons with the Dakota, Missouri Valley & Western Railroad. The lightweight, aerodyna mically-streamlined one-piece wagon cover prevents dust emissions and retains coal particles. The cover can be operated mechanically, hydraulically or by pneumatically-actuating cylinders.
An internet-based display tool for depots and workshops has been launched by Zonegreen. The Operator Planning Suite is intended to replace the manual whiteboard by using IP technology to display tasks simultaneously across the site. As the product is subscription-based, no additional software need be purchased.
London Underground PPP contractor Tube Lines has used Tordon weedkiller to eradicate Japanese knotweed across surface sections of the Northern, Jubilee and Piccadilly lines. The virulent weed can cause instability in lineside structures. Tordon, manufactured by Frontier Agriculture, is claimed to be more environmentally-friendly than conventional herbicides.
Rowe Hankins has launched a six-month trial of a wi-fi enabled on-train monitoring and recording unit in the UK. A Teloc unit produced by HaslerRail has been installed on a Porterbrook-owned Class 170 DMU operated by London Midland. The trial is scheduled to conclude in December.