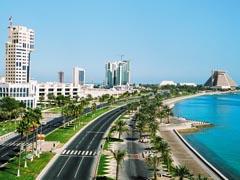 QATAR: A company to develop €17bn of railway and metro networks in the emirate was established with the signing of an agreement in Doha on November 22.
Qatar Railways Development Company is a joint venture between the Qatari Diar real estate arm of state-owned Qatar Investment Authority (51%), and the DB International subsidiary of Germany's national railway (49%).
QRDC has a budget of €700m and will be responsible for managing planning and construction of the proposed lines. DB International will supply two of the four managing directors, including the CEO for the first four years.
Railway investment totalling €17bn is envisaged as part of the Qatari government's €130bn modernisation and diversification strategy which aims to reduce the country's dependency on natural gas exports.
DB International has been developing conceptual designs under an agreement signed in August 2008. Around 325 km of freight railway is planned, with most of the routes also to be used by passenger services including a 180 km long 350 km/h high speed line over the planned causeway to Bahrain and a 100 km connection to Saudi Arabia suitable for 200 km/h running. Four metro lines totalling 300 km and 98 stations are planned for Doha.