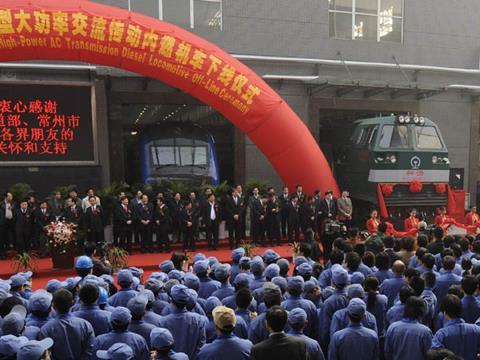 CHINA: GE Transportation and its Chinese partner Qishuyan Locomotive rolled out the first China Mainline Locomotive to be assembled in China at a ceremony on November 25.
The Ministry of Railways placed a US$450m order for 300 of the CML diesel locos in October 2005. The first two were built at GE's plant in Eire, Pennsylvania, and shipped to Tianjin in August, while the remaining 298 are to be assembled at the Changzhou plant of China South company Qishuyan Locomotive using kits of parts shipped from the USA.
GE Transportation has established on-site teams in Changzhou, Chengdu and Zhuzhou, with 20 local manufacturing and quality engineers providing technical support during the assembly of the kits. The final loco is due to be delivered to Chinese Railways in June 2010.
Rated at 6250 hp, the six-axle locos are powered by 16-cylinder GEVO engines and will be used to haul freight on the lines from Harbin to Qiqihar and Mudanjiang.
'The China Mainline Locomotive adopts GE's Evolution technology', said Tim Schweikert, President & CEO of GE Transportation China. 'It can cut key emissions by up to 50%, improve fuel efficiency by up to 10% and lower life cycle costs by up to 15% compared to locomotives currently in use in China. This new locomotive is poised to significantly improve hauling capability and running speed … while at the same time reducing emissions to meet increasingly rigorous Chinese environmental requirements.'