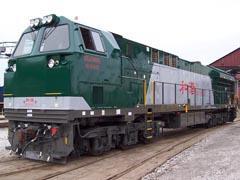 CHINA: The first of 300 Evolution Series diesel locomotives being supplied to Chinese Railways by GE Transportation and Qishuyan Locomotive & Rolling Stock Works is due to arrive at Tianjin at the end of August, under a US$450m contract awarded in October 2005.
Rated at 6250 hp, the six-axle CML (China Mainline Locomotive) is powered by a 16-cylinder GEVO engine, which the manufacturer says will produce 84% fewer emissions and increase fuel efficiency by 3 to 5%.
GE Transportation is supplying two complete locos from Erie, Pennsylvania. The remainder will be assembled by Qishuyan at Changzhou using kits and parts supplied from the USA. The first complete kits were shipped in May, and all 300 locos are due to be completed by the end of 2009.