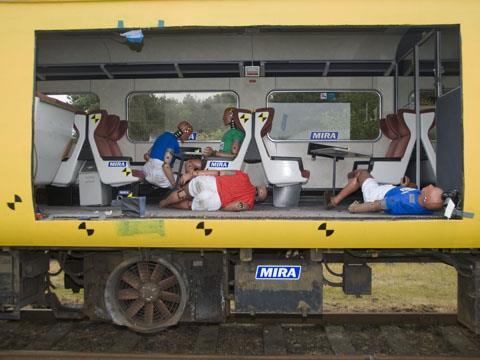 UK: Automotive and defence testing organisation MIRA has staged a full-scale rail collision to showcase opportunities for technology transfer between road and rail ahead of the implementation of further EU regulations covering the crashworthiness of rolling stock.
The collision aimed to replicate an impact scenario set out in EN15227. A diesel multiple-unit was used to propel a 32 tonne Mk II coach into a stationary 82 tonne Class 86 locomotive at 35 km/h, producing a collision in which around 1·5 MJ of energy was dissipated.
###YOUTUBE###
An array of still and digital video cameras recorded the crash dynamics, and accelerometers recorded the deceleration of the coach. On board were four 78·4 kg Hybrid III crash test dummies representing the average or '50%' male in size and weight. Dummies with their backs to the direction of travel suffered chest and abdominal damage when hit by tabletops ripped off as the forward-facing passengers were launched forward; real passengers would have suffered broken limbs and head injuries.
External damage was limited, with a fractured coach buffer and bent locomotive buffer recorded.
'Although a full-scale crash like this hasn't been performed here in the UK for over 20 years, automotive crash testing is a daily occurrence for us at MIRA, so we were confident the demonstration would run to script and right on cue', said Joanne Gleave, Safety Development Manager at MIRA. 'We've been crash testing since the early 1950s and performed thousands of tests over the years, but never an entire loco and carriage, so we were all keen to examine impact zone and high speed film.'
The event was staged at a rail-connected former military depot in Warwickshire on May 14. The site is operated by Motorail Logistics, and has an extensive internal rail network which available for testing and secure vehicle storage. 'This event clearly demonstrates that the facility here at Long Marston is a perfect venue for this sort of safety development', said Colin Flack of regional industry promoter Rail Alliance.