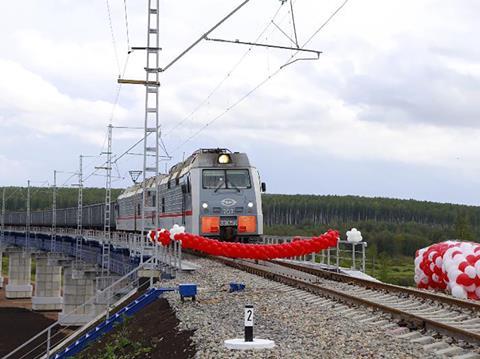 To improve links between the Trans-Siberian and BAM routes, Russian Railways has opened the 3·4 km Avda – Gromadsk spur, built at a cost of 1·7bn roubles and including a 550 m curved viaduct with a 4 m height difference between the ends.
A twice-weekly intermodal service from Poland to China was launched by Hatrans on August 17, carrying beverages and confectionary. Trains have operated westbound, but there had been a lack of east-bound cargo.
In collaboration with transport authority RMV, 'free float' short-term car hire company car2go is offering rail passengers 30 min free usage during the closure of the Frankfurt S-Bahn tunnel for engineering works.
Cambodian concessionaire Toll Royal Railway has been renamed Royal Railways, reflecting Toll's divestment of its 55% stake to local partner Royal Group last December.
As a result of the 2013 Lac-Mégantic disaster, Transport Canada and the US Federal Railroad Administration have released the permanent versions of updated rules designed to prevent the runaway of unattended trains of potentially dangerous goods.
EIB is to lend €100m to the French region of Aquitaine to fund the acquisition of 24 Régio2N and 22 Régiolis EMUs to operate local TER services, costing a total of €400m. By mid-2016, 100% of the TER Aquitaine fleet operated by SNCF will comprise new or refurbished vehicles.
After an appeal by incumbent CD led to the cancellation of the award of a KC2·25bn contract for GW Train Regio to operate local services in the Czech Republic's Jihoeský region, the process was re-run with GWTR again being selected as the winner; further appeals may follow.
Russian Railways has signed an agreement for the City of Moscow to buy a 50% stake in its Moscow Ring Railway subsidiary, which is undertaking a 74·8bn rouble modernisation of the 58 km orbital freight route with the aim of reinstating suburban passenger services from December.
R J Corman Railroad Co took over the 140 km out-of-use Carolina Southern Railroad short line with effect from August 17, and expects to restart freight services within six months.
Czech infrastructure manager SŽDC has launched a KC1·2bn two-stage modernisation of Praha-Hostiva station to increase capacity for suburban and long-distance traffic. This includes track, bridge, 3 kV DC catenary and signalling renewals. New halts at Zahradní Msto and Eden will replace the existing halt at Strašnice. Work is being undertaken by a consortium of Strabag Rail, Eurovia CS and GJW Praha for completion by June 2016.
Indian Railways plans to install CCTV on 20 000 coaches at a cost of Rs7bn.
On July 22 Development Minister Ana Pastor marked the start of work on a rail link to serve terminal T1 at Barcelona El Prat airport, under a contract awarded in 2010 to a joint venture of Copcisa, Ferrovial Agroman and Sacyr.