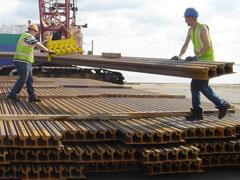 Dutch infrastructure contractor Strukton Rail has launched a vocational 'work and learn' programme focused on electrical engineering. On September 10, the first intake of 11 recent school leavers from Amsterdam embarked on the course, which combines paid work with weekly academic classes.
Deutsche Bahn opened a professional training facility in Frankfurt-am-Main on August 23, taking the total number of sites across Germany to 30. DB took on 4 100 school and university leavers on September 4, an increase of 300 on the 2011 figure, according to Chief Executive Rüdiger Grube.
Crossrail Ltd and Bentley Systems inaugurated a joint Information Academy in London on August 22. Developed under a technology partnership announced earlier this year (RG 3.12 p32), the academy 'seeks to enhance supply chain knowledge' through the adoption of the Building Information Management concept.
Four graduate interns joined UK train operator Greater Anglia in August under the pan-industry 'Track & Train' initiative. Track & Train has been set up by Network Rail to recruit young people and provide them with 18 months of experience in a variety of front-line roles in an effort to counter the fragmentation of rail training since the privatisation of British Rail.