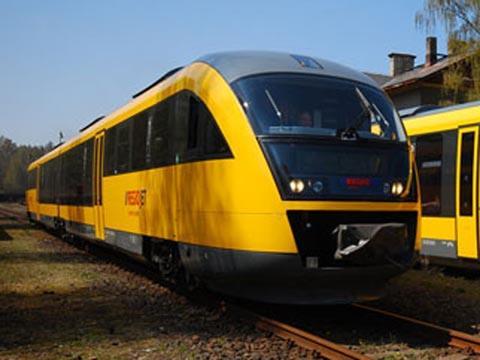 CZECH REPUBLIC: After more than two years of campaigning and having obtained a passenger operating licence last October, the RegioJet subsidiary of travel agent and coach operator Student Agency has managed to finally enter the local rail market, albeit briefly, and to acquire a fleet of electric locomotives to support its plans to run long-distance services.
The demonstration operations were part of the company's KC10m 'Yellow Spring on Rails' publicity campaign. On April 24-25 and May 1-2 it ran six return trips ran from Decín to Krupka, one extending to Litvínov, over a route where national operator CD had ceased regular services in December 2007. Between April 26 and May 7 RegioJet ran eight weekday-only Ústí nad Labem - Litvínov trains. A nominal fare of KC5 was charged, and RegioJet carried 4 000 passengers on its first weekend.
The DMUs moved to the Olomouc - Unicov line on May 7, then west to the Plzen - Domazlice where they will operate special trains in conjunction with summer music festivals.
These demonstration services were followed on May 17 by confirmation that Student Agency had paid KC500m to buy nine Class E630 3 kV DC electric locomotives from Italy's FNM. These were built for Czechoslovak State Railways in 1991-92, but the when the successor railways were unable to pay for them they returned to Skoda which then delivered them to FNM in 1995.
Student Agency has already requested paths in the 2010-11 timetable to allow it run long-distance passenger trains with a view to taking part in the Czech Republic's first tenders for such services.
Last December the Ministry of Transport signed a contract for CD to provide long-distance and inter-regional services in 2010-20, but this allows for 75% of these services to be tendered.
The ministry will pilot tendering on the Ostrava - Opava - Krnov - Olomouc route in 2011, followed by Praha - Ústí nad Labem - Karlovy Vary - Cheb and Praha - Ústí nad Labem - Decín. As well as RegioJet, Arriva, Veolia Transport and Viamont are expected to bid.