GERMANY: The first Desiro Main Line EMU ordered by Angel Trains for use on Trans Regio's MittelRhein service between Köln and Koblenz is now on test; Dr Harry Hondius rides the first four-car set at Wildenrath.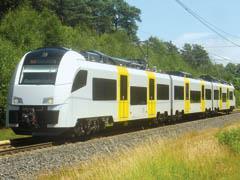 With the December 2008 timetable change, Trans Regio Deutsche Regionalbahn GmbH will take over the operation of local passenger services on the Mainz - Koblenz - Köln route, using a fleet of 16 Desiro Main Line EMUs leased from Angel Trains International. These units are being built by Siemens at Uerdingen, under a €70m contract awarded in March 2007 that includes options for up to 84 more trainsets.
The first of the three-car EMUs, which carries the EBA classification ET460, is currently undergoing commissioning at the Wegberg-Wildenrath test centre ahead of delivery.
Announced in June 2006, the Desiro Main Line is Siemens' modular platform for regional multiple-units, primarily aimed at the contract operators that are now responsible for running an increasing proportion of regional passenger services across Germany. The basic concept was outlined in RG 8.06 p446, where it was suggested that Siemens needed to develop a new trainset as DB would not allow its suppliers to sell EMUs based on its existing S-Bahn stock to rival operators.
As with the Coradia Lirex Continental from Alstom (RG 5.08 p201), and the forthcoming Talent 2 from Bombardier, Desiro Main Line is envisaged as a fully flexible modular trainset that meets the latest TSI crashworthiness standards yet can easily be adapted to suit specific applications. It can also be modified at a later date to facilitate subsequent use on a different concession, avoiding the high engineering cost of developing a bespoke design and making the vehicles attractive to rolling stock leasing companies looking for a relatively standard product.
Unlike its competitors, Siemens decided to base its new design on individual vehicles, rather than using articulation bogies. This enabled Siemens to scoop the order to supply 305 EMUs for Belgian National Railways, as the Desiro Main Line concept best fulfilled SNCB's requirements regarding the number of seats in a given unit length (RG 5.08 p289). In addition, Desiro Main Line can be configured to suit three typical platform heights: 550 mm, 760 mm or 900 mm, with two standard entrance heights at 600 mm or 800 mm above rail.
Aluminium bodies
The main speciality of Siemens' Uerdingen plant is the welding of long extruded aluminium profiles to form car bodies such as those used on the ICE3 and Velaro families. Desiro Main Line follows this same basic model, with a steel-framed crashworthy nose bolted to the aluminium bodyshell. The centre part between the doors in each vehicle provides the low-floor area, with a floor height at 800 mm above rail to suit 760 mm high platforms. The outer ends behind the cabs have a floor height of 1 075 mm over the end bogies, but for the inner ends Siemens has managed to keep the gangway over the centre bogies at 895 mm, which is reached by ramps from the vestibule areas. However, the Kiel Match seats are mounted on 180 mm high boxes covering the wheels.
In one of the end vehicles, the low-floor section accommodates a multi-function area with folding seats, a wheelchair space and an accessible toilet. Electrically-operated sliding plug doors are fitted, with two 1 300 mm wide doorways on each side of each vehicle.
The three-car unit runs on bolsterless SF 6500 bogies, of which the four under the end vehicles are powered. Total weight of the powered bogie is 9 tonnes, and the unpowered ones weigh 6·7 tonnes.
In each bogie the axles are guided by longitudinal arms, which at one end support the bogie frame by coil springs with rubber elements, complemented by vertical shock absorbers. Traction forces are transmitted between car body and bogie frame by a central mechanism consisting of rubber/metal springs and bearing surfaces. The secondary air springs are equipped with a two-point levelling system, and a torsion stabiliser prevents the car from rolling.
The fluid-cooled three-phase motors are fully suspended from the bogie frame using rubber springs, and drive via a toothed coupling to the semi-suspended Flender gearbox, which is supported on one side from the frame and rests directly on the axle. By disconnecting the coupling, the wheelset can be removed while the motor remains in place.
All axles are equipped with electro-pneumatic disc brakes, and the outer wheelsets also have sanding equipment. Eight axles are equipped with spring-applied brakes which can be used for parking, and each unit is fitted with two 84 kN magnetic track brakes for emergencies.
All electrical equipment has been supplied by Siemens, and everything is roof-mounted with exception of the compressor and batteries. The units are fitted with the standard Sitrac traction control system, which is fully redundant apart from the pantograph mounted on one of the end vehicles. Each motor car has its own transformer and four-quadrant converter, feeding an IGBT inverter pack driving the four motors on that vehicle. Roof-mounted cables transfer the high voltage supply to the other motor vehicle. As with almost all modern 15 kV, 16·7 Hz trainsets, the units are equipped with regenerative braking, but there are no brake resistances. Each vehicle has its own roof mounted air-conditioning unit.
The interior of the finished train is light and roomy. Travelling at 110 km/h on the test ring, the ride quality was excellent. Interior noise levels were very low, even with the air-conditioning in operation.
Principal suppliers
Bodyshells, electrical equipment, assembly
Siemens
Exterior and interior design
Tricon
Doors
Bode
Air-conditioning
Faiveley
Automatic end couplers
Scharfenberg
Brakes
Knorr-Bremse
Pantograph
Fa Richard
Seats
Kiel
Technical data for Desiro Main Line Class ET 460
Axle arrangement
Bo'Bo' 2'2' Bo'Bo'
Vehicle profile
EBO G1 UIC 505-1
Crashworthiness
EN 15227
Buffing load kN
1500
Fire prevention
Level 3 DIN 5510-2; NF F16-101
Overall length over couplings m
70·9
Length of end car mm
24200
Length of centre car mm
22500
Width mm
2840
Height mm
4250
Empty weight tonnes
133
Maximum axleload tonnes
17
Maximum speed km/h
160
Service acceleration m/s²
1·0
Service braking rate m/s²
1·0
Emergency braking rate m/s²
1·2
Minimum radius (in depot) m
110
Steepest gradient
4%
Exterior temperature range °C
- 35 to + 40
Doorway width mm
1300
Door height mm
2000
Headroom in high-floor area mm
2040
Headroom in low-floor area mm
2315
Floor height above rail mm
800
over middle bogies mm
895
over end bogies mm
1075
Steps up to end sections mm
2 x 140
Height of under-seat boxes mm
180
Gangway width mm
510
Seat width mm
450
Spacing between facing seats mm
1650
Spacing between airline seats mm
750
Bogie wheelbase mm
2300
Wheel diameter new/used mm
850/760
Bogie centresm
16·2 + 15·7 + 16·2
Power supply
15 kV 16·7 Hz
Traction motors
8 x 1TB1724
Maximum rating kW
335
Continuous rating
210 kW @ 2000 rev/min
Gear ratio
3.865972222
Transformer rating mVA
2 x 1142
Peak inverter rating mVA
2 x 1·6
Auxiliary inverter kVA
su mmer 90 / winter 110
Battery charger DC/110V
A 2 x 110 V 91 A
Sealed lead-acid batteries
2 x 100 Ah (C5)
Ventilation per car m³/h
2800
Heating per car kW
40
Cooling per car kW
28
Cab ventilation rate m³/h
600
Cab heating kW
6
Cab cooling kW
5
Seats (first/second)
252
Standees (@ 4/m2)
240
Specific weight kg/m²
662·5
Specific weight kg per seat
526
Specific power kW/t
19·6
Door width per m of train length mm/m
111