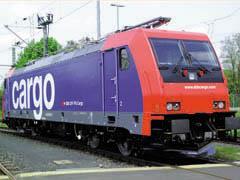 SWITZERLAND: Swiss Federal Railways is to hive off its international freight operation as an independent business. Announcing the move on February 4, SBB said that it will continue to operate domestic wagonload services, which will be 'further standardised' and tailored more for its customers with 'a full product portfolio'.
The international freight business will be restructured as a separate company whose objectives include better cost control, streamlined management and use of a simple IT system. The reshaped business will concentrate on hauling trainload traffic between North Sea ports and northern Italy, where container and other intermodal services is viewed as a long-term growth market, albeit with low margins.
SBB is currently negotiating with Hupac about taking a stake in the future company while discussions continue on ways to integrate SBB Cargo's German and Italian subsidiaries. No decision has been taken on where the future company's headquarters will be located.
Much of SBB Cargo's domestic wagonload business in practice involves traffic moving across the borders into France, Germany and Italy, and SBB intends to sign bilateral co-operation agreements with DB, SNCF and 'other partners'. More details of SBB's freight strategy, including announcements about job losses and retraining, are expected in the summer.