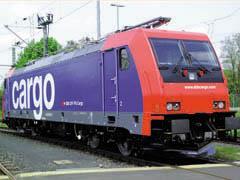 SWITZERLAND: Half of the 14 bidders which submitted firm offers to work in partnership with SBB Cargo last October have been retained for further negotiations. Announcing this on April 2, SBB Cargo said that it is keeping open the option of continuing as an independent operator. Only if a partnership would ensure a more successful future for the Swiss rail freight business in the long term would SBB Cargo agree to a co-operation deal.
Leading the contenders to partner SBB Cargo are DB and SNCF, which have each offered to take a 49% stake. Both railways and the other five bidders have been asked to discuss their offers in more detail over the next few months, the aim being to take a decision before the end of the year.
SBB Cargo emphasises that it is looking for a business model that will allow it to strengthen its position in both international and domestic rail freight, the essential objectives being to improve financial performance and to win more traffic from road to rail. SBB Cargo insists on retaining the right to decide on the future size and quality of the domestic wagonload network, pointing out that 40% of domestic traffic involves international links of some kind.