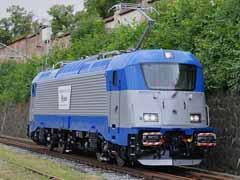 CZECH REPUBLIC: On July 24 Skoda Transportation's Plzen works unveiled the long-awaited prototype for a fleet of 20 type S 109E electric locomotives ordered by Czech Railways.
Marking Skoda Transportation's re-emergence as a major player in the European rail industry, the triple-voltage 200 km/h 109E is the first mainline electric locomotive design from the company since 1994. Skoda has built more than 5 550 locomotives since 1927, but suffered a serious drop in orders after the demise of the Comecon system. The company has since recovered, concentrating mainly on trams.
Managing Director Tomás Krsek said the 109E is Skoda's 'locomotive for the third millennium'. Suitable for 25 kV, 15 kV and 3 kV DC, it meets all the needs of the modern market, including the European interoperability standards which have developed rapidly in recent years. This led to delays in production of the prototype, with the body being revised to meet changed crashworthiness requirements.
Porsche Design developed the styling of the locomotive, which Skoda says contains 30 km of cable and more than 10 000 electrical connections.
CD placed a KC2·5bn order for the 20 Class 380 locomotives in April 2004, funded through Eurofima. The first locomotives are expected to begin hauling passenger trains early next year, with regular service on international routes from December 2009.
Deliveries will be completed in 2010, and certification will be obtained for use in Austria, Germany, Hungary, Poland and Slovakia.
Railway Gazette International is the official international media partner of InnoTrans. Read about the 109E in the September issue.