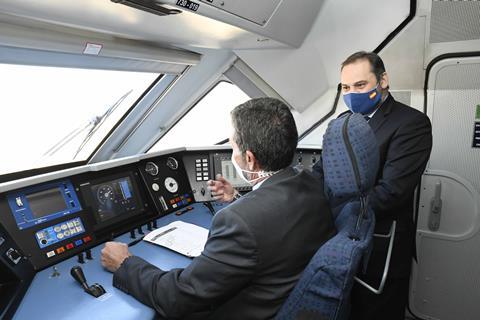 SPAIN: A 110∙8 km section of the Madrid to Galicia high speed line between Zamora, Puebla de Sanabria and Pedralba de la Pradería was inaugurated by ADIF on October 26.
The opening ceremonies were led by Minister of Transport, Mobility & Urban Development José Luis Ábalos, and attended by ADIF President Isabel Pardo de Vera and her RENFE counterpart Isaías Táboas.
This section of high speed line passes through a remote mountainous area on the border between Spain and Portugal, and has been completed within a budget of €898m according to ADIF Alta Velocidad.
Work included the construction of 14 viaducts totalling 3 918 m in length, and nine double track tunnels with a total length of 4 939 m. The longest viaduct is 756 m and the longest tunnel 1 499 m, both near Puebla de Sanabria.
The opening brings the total length of the Spanish high speed network up to 3 567 route-km, maintaining its second place in the world ranking behind China. The only substantial centres of population on the route are the provincial capital Zamora (61 400 inhabitants) and Puebla de Sanabria (1 400 inhabitants).
One major work package still to be completed is construction of a new station at Sanabria AV, replacing Puebla de Sanabria station on the conventional line. The out-of-town complex is being built at a cost of more than €4m, including the construction of a access roads to the nearby A-52 motorway and regional trunk roads.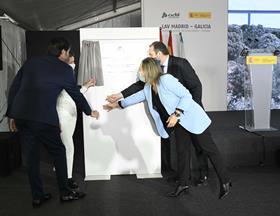 A notable feature of the new line is the section immediately west of Zamora station, where the double track formation comprises one 1 435 mm gauge track and one 1 435 mm/1 668 mm dual gauge track. This is because the first 8 km uses the alignment of the conventional broad gauge, single track Zamora - Ourense railway, completed in the 1950s. Work here involved adapting two tunnels for a double track alignment with high speed operation.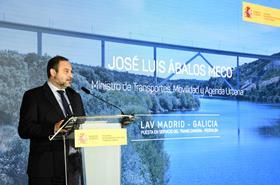 The line is electrified at 25 kV 50 Hz, designed for a maximum speed of 350 km/h and equipped with ETCS Level 2, ASFA digital and GSM-R. The ETCS is already operational, enabling a maximum commercial speed of 300 km/h. There are refuge loops at Tábara, an emergency crossover at Otero, and a CAF/Talgo gauge-changer at Pedralba de la Pradería enabling trains to access the conventional, non-electrified 1 668 mm gauge line to A Gudiña and Ourense.
The first revenue services ran on October 27, with RENFE Viajeros providing four daily return trains between Madrid and destinations in Galicia. The journey time reductions are considerable:
Madrid – Pontevedra: 86 min;
Madrid – Santiago de Compostela: 41 min;
Madrid – Ourense: 39 min;
Madrid – Vigo: 31 min.
One addition to the timetable is a direct train between Madrid, Santiago de Compostela, Vilagarcía de Arousa and Pontevedra. This is the first time that the provincial capital of Pontevedra has enjoyed a service to Madrid which is not routed via Vigo, and the first time that the expanding port of Vilagarcía de Arousa has enjoyed a direct service to and from the capital. RENFE says that it plans to gradually increase service frequency as demand returns in the post-Covid-19 era.
Services between Madrid, Zamora and Ourense are operated by electro-diesel Class 730 Talgo trainsets.