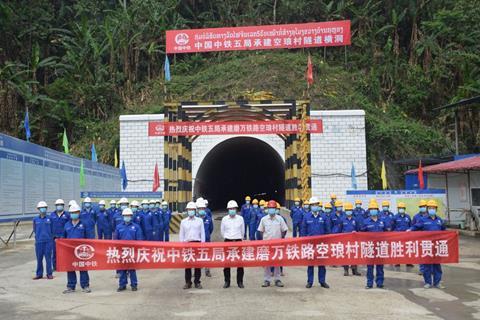 CHINA: On August 13 construction teams holed through the 14∙5 km Duoji tunnel in the Mojiang Hani district, northeast of the town of Pu'er Simao. The tunnel is one of the most challenging structures on the 507 km Yuxi – Mohan corridor, which forms the Chinese segment of the cross-border corridor linking Kunming with Vientiane in Laos.
Throughout its length, the railway passes through mountainous terrain, and excavation of the Duoji tunnel has been a fraught process. The contractors faced very complicated geological conditions, including the deformation of soft rock and the build-up of toxic gases.
By early August, the formation and earthworks of the line from the railhead at Yuxi to the border were reportedly complete, along with more than 90% of the bridges and 95% of the tunnels. This followed the completion of boring work on two tunnels totalling 19 km in late June.
Cited as one of the flagship schemes of China's Belt & Road Initiative, the Kunming – Laos corridor is being built as a largely single-track electrified line for mixed-traffic operations; maximum speed would be 160 km/h.