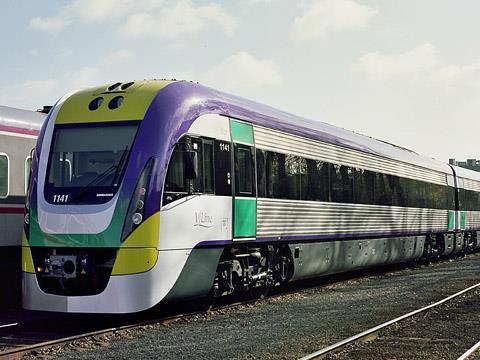 AUSTRALIA: The Victoria state government has awarded Bombardier Transportation a €75m contract to supply a further 32 VLocity DMU cars. They will be delivered in 2010-11 as a mix of two and three car sets.
VLocity DMUs entered service on 1 600 mm gauge V/Line Passenger routes between Melbourne and regional towns during 2005. Ridership has subsequently increased, and the latest order announced by the manufacturer on February 25 will bring the fleet to 134 cars.
The 160 km/h stainless steel DMUs are built at Bombardier's plant in Dandenong, Australia, with 70% local content. A three-car unit offers 214 fixed and eight folding seats, six wheelchair spaces and two toilets.
'V/Line has enjoyed a massive increase in patronage over the last few years, and the Bombardier VLocity trains have been an integral part of that', said Rob Barnett, CEO of V/Line Passenger. 'I am pleased that we are expanding our fleet.'
V/Line, Connex, Yarra Trams and bus operators will provide free travel until October for people who lost their homes in recent bushfires.