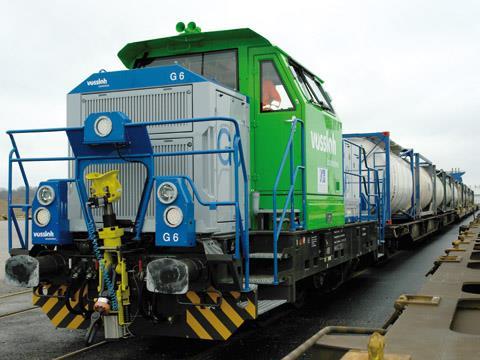 GERMANY: The Verkehrsbetriebe Peine -Salzgitter transport and logistics subsidiary of steel and technology group Salzgitter AG has awarded Vossloh Locomotives a €25m contract to supply 18 G6 diesel shunting locomotives from early 2011.
VPS provides haulage and shunting services at Salzgitter AG's plants in Salzgitter, Peine and Ilsenburg as well as elsewhere in Germany. Its current fleet includes 43 LHB 530C shunters dating from the 1960s which it plans to gradually replace with modern designs.
Kiel-based Vossloh Locomotives launched the compact three-axle centre-cab G6 at InnoTrans 2008 as the first of a modular family of locomotive designs for industrial customers including mines, ports and factories. It has a top speed of 80 km/h, and can negotiate curves as tight as 50 m radius.