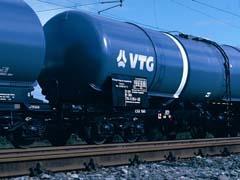 GERMANY: Leasing firm VTG announced an agreement to acquire the wagon manufacturing assets of Graaff Group on July 29. Graaff had filed for insolvency in March, owing to 'difficulties in handling a large order and the tight liquidity situation.'
Graaff's wagon plant at Elze near Hannover has an annual capacity of 300 vehicles, with a particular focus on chemical tank cars. The acquisition will secure 'scarce production capacity to build special freight cars', according to VTG Chief Executive Dr Heiko Fischer.
VTG will use its experience of specifying and designing wagons to more closely integrate engineering design, materials management and production at Graaf, and intends to supply both existing and new customers. VTG will still buy wagons from other manufacturers, and Director of Engineering & Procurement Jürgen Hüllen said the company is 'not planning to manufacture all the rail freight cars we need ourselves'.
The companies did not disclose the value of the deal, which is subject to regulatory approval.