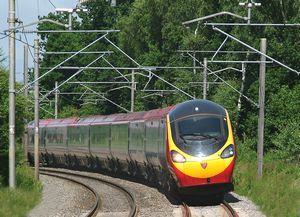 UK: Leasing company Angel Trains announced on September 19 that it had signed contracts with Alstom for 106 extra Pendolino vehicles for West Coast services.
Alstom's Saviglinao plant is set to begin work in January on the production of four 11-car trainsets plus 62 vehicles to lengthen 31 existing nine-car sets by two carriages. The Department for Transport has appointed Virgin Rail Projects to enter into interim lease and maintenance contracts for the new stock, which will be in service by December 2012.
The £1·5bn deal includes a 10-year extension of Alstom's current maintenance contract, taking it to 2022. It also contains an option to purchase a further 42 carriages in 2010, which would enable the remaining 21 nine-car trains to be lengthened from early 2013.
Lengthening of the existing trains will take place at Alstom's Traincare Centre at Edge Hill in Liverpool, and the Wembley, Oxley, Longsight and Polmadie depots will be adapted to accommodate the longer trainsets.
Paul Robinson, Managing Director of Alstom Transport UK & Ireland, said finalisation of the contracts was a significant milestone. 'The contracts enable us to provide much-needed extra capacity on the West Coast Main Line and underpin the reliability and availability of the Pendolino fleet through a well-proven service regime that we have been providing for Virgin Trains since 2003.'