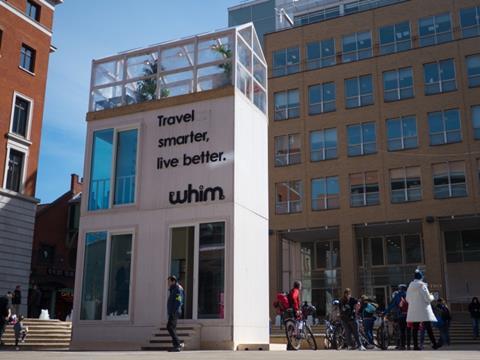 UK: Amid celebrations in Birmingham on April 5, Helsinki-based technology company MaaS Global has launched its Whim multimodal transport application in the UK, working in partnership with the West Midlands Combined Authority.
Described by MaaS Global as the first monthly subscription 'mobility as a service' platform, Whim is intended to offer a single access point, via a smartphone app, to multiple transport options including bus and urban rail, car hire, taxis and cycle hire. Users would either subscribe on a periodic basis to receive access to these services for a fixed fee, or use the app for pay-as-you-go purchases on a journey-by-journey basis.
Three options are being offered in the West Midlands region. These are: pay as you go; Whim Everyday, offering unlimited public transport with taxis and best-price car hire; and Whim Unlimited, which includes unlimited public transport, all taxi rides within a 5 km radius of the user's location, and up to 30 days of car hire per month. Whim Everyday is priced at £99/month while Whim Unlimited is £349/month.
The local Swift smartcard has been integrated into the app to ensure access to public transport. Participating companies include bus operator National Express West Midlands, taxi app Gett, car rental company Enterprise and cycle hire provider Nextbike, which will be launching in Birmingham later this year.
'We want to challenge the way people start to think about their journeys and let them see that vehicle ownership doesn't have to be the only way forward', said MaaS Global founder Sampo Hietanen. 'On average, cars are parked up unused for about 96% of their lifetime, but we still have to pay for them, sometimes in conjunction with other transport options too.'
'Public transport is at the heart of Whim in providing seamless mobility that is easy to use', added Chris Lane, Head of Transport Innovation at organising authority Transport for West Midlands. 'The benefits this will bring to both consumers and businesses are huge. Companies can grow, people can get better access to jobs, and the region will attract more visitors and investment.'
Whim was first launched in Helsinki, where it now has 20 000 registered users, and MaaS Global aims to launch in Antwerpen later this year. Negotiations are also ongoing for a roll-out in the Netherlands, Austria, Canada and Singapore, the company says.