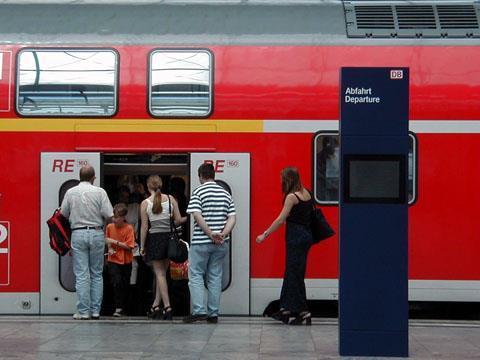 GERMANY: Berlin-Brandenburg transport authority VBB has selected DB Regio and Ostdeutsche Eisenbahn as the winners of regional operating contracts with a total value of €1·3bn in the largest rail tendering process undertaken in Germany.
VBB managed the tendering on behalf of the Länder of Berlin, Brandenburg, Sachsen-Anhalt and Mecklenburg-Vorpommern. The contracts cover 16 passenger services totalling 22 million train-km a year, which were combined into four lots and tendered with the condition that one company could not be awarded all four contracts.
The contracts for the operation of regional services begin in December 2011, with Regional Express trains following a year later. All run to December 2022.
DB Regio won two of the lots with a totoal of nine services, and will run the Berlin Brandenburg International airport express which is to be launched in November 2011. From December 2014 it will run also Berlin-Lichtenberg - Eberswalde services. DB Regio is to refurbish the double-deck stock used on some of the routes to increase capacity, and will deploy Talent 2 EMUs on other routes from December 2011.
Ostdeutsche Eisenbahn's two lots cover five routes totalling 7 million train-km a year. Double-deck Flirt EMUs will be ordered from Stadler, along with GTW 2/6 DMUs.