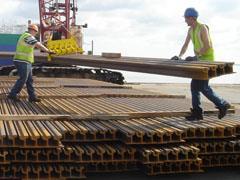 Argentina: Infrastructure authority ADIF has selected Grupo Roggio, Herso, Ferromel and a joint venture of Comsa, Iecsa and CPC to carry out US$200m of track renewals on 220 km of the Belgrano network.
Comsa and Iecsa have begun on a three-year programme to renew track on the Sarmiento commuter network in Buenos Aires.
Australia: Enotrac is to undertake loading, power quality and EMC studies for the 25 kV 50 Hz electrification of Adelaide's metropolitan rail network (RG 8.09 p34).
Rail Technology International has won a five-year contract for ultrasonic rail flaw detection on the Rio Tinto and Pilbara Iron heavy haul lines.
Austria: Thales is to supply ETCS Level 2 for the 60 km Wien - St Pölten section of the Westbahn and 148 km of the Brenner route.
Bosnia: The Konjic - Capljina line will be resignalled by Thales in a €12m contract funded by EBRD and EIB.
Canada: Aecom Technology has a US$20m project management and design contract for the 3·1 km C$815m light rail extension to Northern Alberta Institute of Technology in Edmonton (MR 12.09 p24).
Chile: Icil Icafal is to modernise the San José de la Mariquina - Puerto Montt line and maintain it for 14 years under a contract with EFE.
China: Hong Kong's MTR Corp has awarded Gammon Construction a HK$1·3bn contract to build Kennedy Town station and over-run tunnels on the 3 km West Island Line.
Finland: Pöyry has a €1·6m contract to plan modernisation of the 113 km Seinäjoki - Kaskinen route to eliminate level crossings and increase freight train speeds in 2011.
Germany: Siemens has a €40m contract to supply DB Energie with eight 15 MW Sitras SFC Plus traction converters to replace rotary equipment converting the three-phase 50 Hz grid supply to single-phase 16·7 Hz without needing a traction transformer.
Nigeria: At a cost of N87·8m China Civil Engineering Construction has modernised the rail connection to the APM Terminals container facility in Lagos, designed by Scott Wilson.
Saudi Arabia: Scott Wilson has been awarded a £14·5m contract by SRO to provide project management for the Haramain High Speed Rail project.
Slovakia: A Siemens Simis-W electronic interlocking has been installed at Kysak on the main Bratislava - Kosice - Cierna nad Tisou corridor at a cost of €4m. Liptovský Mikulás and Kosice will follow.
Spain: Thales is to supply electrical and safety systems to upgrade three tunnels on Barcelona's suburban rail network under a €6·2m contract.
Ferrovial Agromán has won a €54·7m contract to build a station serving Tarragona and Reus on the connection now under construction between the Madrid - Barcelona high speed line and the Barcelona - Valencia route at Vandellós. A gauge-changing installation will enable trains from Tarragona and Valencia to call.
Bruesa Construcción Rail and Arias Hermanos Construcciones have been awarded a €10·96m contract to build a train maintenance facility at Redondela with four covered tracks within a 210 m by 28 m building, replacing workshops due to close as part of the rebuilding of Vigo station for high speed services.
Sri Lanka: Ircon is to rebuild the 90 km line between Omanthai and Pallai over 2½ years, backed by a US$185m Indian government credit to support post-conflict reconstruction.
UK: Balfour Beatty has been awarded a £50m contract for refurbishment of the trainshed, footbridges and concourse at Edinburgh Waverley station.
Network Rail has awarded Invensys Rail two signalling contracts within existing framework agreements. One worth £30m covers resignalling Water Orton with Westlock interlockings and Westcad controls, while the £9m Moorthorpe and Hickleton project covers replacement of two mechanical signal boxes with an interlocking controlled from York.