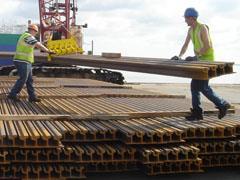 Australia: Seymour Whyte Constructions and Baulderstone have been awarded contracts worth A$68m for enabling works on the 13 km Gold Coast light rail corridor.
Egypt: National Authority for Tunnels has appointed Systra to lead design work for Phase IV of Cairo metro Line 3.
France: Sersa and Laurent Membrez have been awarded a contract to build the 5·3 km Puy-de-Dôme rack railway, expected to open in 2012.
RFF has awarded the Dodin Campenon Bernard Construction joint venture of Spie Batignolles, Vinci and Cegelec a €1843m contract for the 7·5 km Lot 47 of LGV Est Phase 2, including a 4 km tunnel and a 270 m viaduct.
Germany: Harsco is to supply an additional switch and crossing rail grinder in late 2011.
South Korea: Thales is to provide ETCS Level 1 equippment for the 80 km Gyeongchun line between Mangwoo and Chuncheon.
Russia: Vossloh has entered the Russian market with a €10m contract to supply RZD with rail fastenings for the modernisation of 200 km of track. The W30 design has been specially developed for Russia.
Spain: ADIF has awarded a joint venture of FCC Construcción and Conduril Constructora Duriense a €965m contract for civil works on the 63 km Embalse de Alcántara - Garrovillas section of the high speed line between Madrid and the Portuguese border near Badajoz.
Consorcio de Transportes de Vizcaya has awarded Bombardier a €2·7m contract to supply signalling for the extension of Bilbao metro lines 1 and 2 from Etxebarri to Basauri.
FEVE has awarded a Comsa-Domingo Cueto joint venture a €6·9m contract to upgrade 2 km of the León - Matalla line between the city centre and Asunción for tram-trains (RG 10.10 p51).
A joint venture of Ferrovial and Accisa has been awarded a €15m contract to reline three tunnels totalling 18 km on FEVE's Bilbao - Santander route, including gauge enhancement work to accommodate future electrification.
Turkey: ABB is to supply main contractor Avrasya Metro Group with 176 uniGear switchgear panels and 86 transformers for the 21·7 km Kadikoy - Kartal metro project.
UAE: Aecom has been appointed as consultant for the Abu Dhabi metro project, while Sener is to provide consultancy services for the proposed 340 km tram network.
UK: ABB is to supply EDF Energy Infrastructure Services with 147 medium voltage switchgear panels for 13 substations in 2010-12 as part of the upgrade of London Underground's Sub Surface Lines.
USA: At the end of September BNSF put into service a Loram RG402 rail grinder with a working speed of 20 km/h, a 33% increase on previous models.
BNSF has appointed TJ Lambrecht Construction and Walsh Construction to build an intermodal terminal at Edgerton, Kansas. The state is providing a $35m grant.