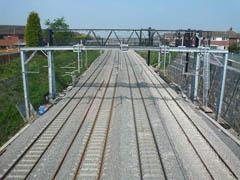 Argentina: Tenders have been called for accessibility and other improvements at 22 Buenos Aires suburban stations, divided into two packages totalling 60m pesos. Also funded under a US$132m World Bank programme for 2008-10, an underpass is to be constructed within a budget of 42·5m pesos to replace a level crossing at Monte Grande.
China: China Railway Group has announced a number of major contracts, including the construction of Tianjin West station on the Beijing – Shanghai high speed line at a cost of 2·1bn yuan. Container terminals will be built in Wuhan at a cost of 383m yuan and Chengdu for 436m yuan.
CR Electrification Bureau will undertake a 618m yuan wiring project in Guiyang with Beijing Construction Engineering, and has won a 2bn yuan contract for Wenzhou – Fuzhou.
Croatia: On June 10 HŽ Infrastructure reopened the Sutla – Harmica section of the Savski Marof – Kumrovec suburban line. Harmica station is on the border with Slovenia.
India: Karnataka State Industrial Investment & Development Corp has invited expressions of interest in a DFBOT concession for the planned 34 km rail link to Bangalore International Airport (RG 4.08 p207).
Delhi Metro has awarded Blue Star a Rs1bn contract to provide air-conditioning at seven underground stations to be built under the Phase 2 extension programme.
Italy: Isozaki Arata Associates, M+T & Partners and Ove Arup have been selected to redevelop Bologna Centrale station.
North Korea: On August 6 a contract was signed for Russian Railways to lease the 54 km railway between Tumangan and Rajin for 49 years, and construct a container terminal at Rajin port (RG 6.08 p346). RZD, Russian-Korean joint venture RasonKonTrans and the Ministry of Railways will explore reconstructing the line from Rajin to Namyan on the border with China.
Malaysia: On July 25 a joint venture of MMC and Gamuda formally signed the 12·5bn ringgit fixed-price contract to double-track the 329 km route from Ipoh to Padang Besar.
Netherlands: Using €45m of local government funding, ProRail is to upgrade the Dordrecht – Geldermalsen line with new passing loops at Dordrecht Stadspolders and a station to be built at Bovenhardinxveld. Four other stations are planned. Operator Arriva plans to order an additional Stadler GTW 2/6 and two more GTW 2/8 EMUs to increase frequencies from 2011.
Pakistan: Delhi Metro Rail Corp is to prepare ridership forecasts and advise on routes for the proposed ?Karachi metro.
Poland: Pöyry is to undertake a €2·9m feasibility study into upgrading the 573 km Tczew – Pszczyna section of TEN Corridor VI to permit freight trains to run at 120 km/h and passenger trains at 160 km/h, with 200 km/h in places.
Spain: The Ministry of Development has awarded Dragados and Tecsa a €105·2m contract to build a 1 620 m long viaduct over the river Ulla between Vilagarcía de Arousa and Padrón on the Vigo – A Coruña route (RG 8.08 p473). The longest steel span will be 240 m in length, a world record according to the ministry.
Azvi and Sando have been awarded a €38·32m contract to place in cutting a 2·24 km section of the Sevilla – Cádiz route passing through Puerto Real. Work will take 30 months to complete, including 868 m in tunnel and new underground station for the town.