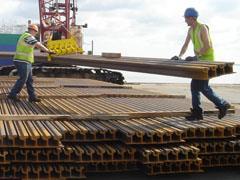 Canada: Toronto regional transport agency Metrolinx has placed a C$54m order for four Lovat TBMs for the Eglinton Crosstown light rail project. The initial Kennedy metro station – Jane Street section of the two -phase 31 km light rail line to Pearson airport includes an 11 km tunnel.
The City of Calgary has awarded CXT Inc and SNC-Lavalin contracts to supply concrete sleepers for light rail extension projects.
China: MTR Corp has placed further tunnelling contracts for the Hong Kong Express Rail Link. China State Construction Engineering and Maeda will build the Tai Kong Po – Tse Uk Tseun tunnels (HK$1·5bn), Kier/Kaden/OSSA the Ngau Tam Mei – Tai Kong Po section (HK$1·5bn) and Dragages/Bouygues the Shek Yam – Mei Lai Road section (HK$1·4bn). Gammon/Leighton Asia have won a HK$2·9bn contract to construct the West Kowloon Terminus Approach and Track Fan tunnels.
In July Wuhan Iron & Steel Co won a contract to supply rails for the Beijing – Shanghai high speed line.
Hungary: The City of Szeged has awarded Alpine a €7m contract to rebuild 3·1 km of tram Line 3.
Israel: A consortium of Minrav Engineering and Moscow Metrostroy has won a 558m shekel contract to build twin 3·5 km tunnels on section B of the A1 fast line to Jerusalem.
New Zealand: KiwiRail has begun crushing damaged concrete sleepers to recycle them as aggregate.
Turkey: Through Marubeni Corp, Nippon Signal is to supply ¥1bn of signalling equipment for the modern­isation of TCDD's Basmane – Aliaga and Alsancak – Cumaovasi routes around Izmir, totalling 79 route-km. Completion is planned for May 2011.
Spain: Within a budget of €18m, ADIF has called tenders for conversion of the 63 km Albacete – Almansa route from 1668 mm to 1435 mm gauge; the double track is laid on convertable sleepers. A new 1668 mm gauge alignment is currently under construction between Albacete and Almansa.
ADIF has awarded a joint venture of FCC Construcción and Oca Construcciones y Proyectos a €26m contract for civil works, tracklaying and electrification to enable high speed services to serve Palencia between Valladolid and León. To be completed within 14 months, work on the 10 km route will include converting one of two tracks from broad to 1435 mm gauge.
As part of the project to introduce suburban services between Sevilla and Benacazón (RG 3.10 p8), ADIF has awarded Thales a €11m contract to undertake signalling and telecommunications work on the 31 km between Camas and Aznalcázar-Pilas.
A joint venture of Amurrio Ferrocarril y Equipos, Talleres Alegría, Felguera Melt and Jez Sistemas Ferroviarios has been awarded a three-year contract worth €91·2m to supply turnouts for ADIF's 1668 mm gauge network.
Tunisia: Frequentis is supplying a VoIP-based dispatching system for Sncft's 280 km Tunis – Sfax route.
UK: Transport for London has selected a Costain Laing O'Rourke joint venture to modernise London Underground's Bond Street station at a cost of £300m to improve access and increase capacity in preparation for the completion of Crossrail in 2017.
ABB is to supply capacitive compensation filters for nine AC/DC compounds to prevent voltage drop on the 109 km High Speed 1, where the 25 kV supply can drop to 17·5 kV. The equipment will cancel out the inductive power demand of isolation transformers.
Network Rail has placed contracts totalling £10m under its Edinburgh – Glasgow Improvements Programme. Carillion is to electrify Edinburgh's Haymarket North tunnel, and Amey Infrastructure, Atkins and Delta Rail have design and development contracts.
USA: Alaska Railroad has appointed Kiewit Pacific to undertake construction management and general contracting work for Phase One of the 130 km Northern Rail Extension from North Pole to Delta Junction, including the Tanana River bridge and levee near Salcha (RG 2.10 p8).