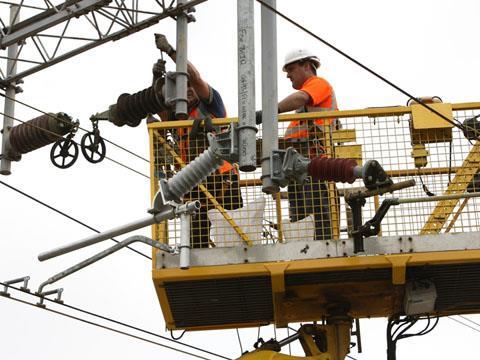 Australia: KBR is to provide engineering design services for the Liverpool Turnback project in Sydney, which includes a new platform and 1·8 km of track for completion in 2014.
A Theiss-McConnell Dowell joint venture will build the A$291m 5·7 km extension of the TransAdelaide southern line from Noarlunga to Seaford by 2013 (RG 8.09 p34).
China: Andrew Solutions is to supply radiating cables for wireless communications on the 900 km Taiyuan – Yinchuan railway project.
Harsco has received two orders totalling US$11m to supply 20-stone rail grinders to metro operators.
Czech Republic: Skanska has taken delivery of the latest design of Desec Tracklayer TL70 Turnout Replacement Machine. Cranes at both ends can be used to lift trolleys or track materials, and winches are provided to pull track panels on trolleys.
Denmark: Cactus UniView is to supply Banedanmark with a traffic management system for the Frederiks-havn – Ålborg route.
Kazakhstan: Siemens and KTZ are to form a joint venture to modernise power supplies and develop local production capabilities, starting with electrification of the Kostanay – Zhelezorudnaya line.
Morocco: Casa Transports has awarded Alstom contracts worth €11m to provide signalling and power supply equipment for the 30 km Y-shaped tram network due to open in Casablanca on December 12 2012.
Spain: ADIF has awarded Alstom, Electren and CYMI a €41·3m contract to supply three traction substations, 18 autotransformer centres and remote controls for the 239 km of high speed line which will link Albacete, Alacant and Valencia (RG 10.10 p44).
As part of an upgrading that makes provision for conversion to 1435 mm gauge, Thales and Dimetronic have been awarded an €799m contract to install ETCS Level 2 between Utrera and Jerez de la Frontera and GSM-R throughout the Sevilla – Cádiz route.
OHL has been awarded a €367m contract to undertake civil works on the first section of the high speed line between Medina del Campo and Salamanca, comprising 35 km of double-track formation and single-track connections totalling 58 km to the existing route to Madrid.
ADIF has awarded FCC Construcción and Oca Construcciones y Proyectos a €26m contract for works to enable high speed trains to serve Palencia from 2012, including the conversion of one 1668 mm gauge track to 1435 mm over 10 km from Venta de Baños. A gauge-changer is to be built for services to and from Santander.
ADIF has awarded Kapsch CarrierCom a €15·7m contract to supply and maintain for three years GSM-R equipment for the 88 km Santiago de Compostela – Ourense high speed line.
Ukraine: Transmash and Plasser & Theurer are producing two DGS-62N dynamic track stabilisation machines to upgrade routes in advance of the Euro 2012 football championship.
UK: Amey is to undertake a £13m package of signalling, level crossing and station upgrades on Network Rail's Oxford – Worcester route.
Network Rail has awarded the Signalling Solutions joint venture of Alstom and Balfour Beatty a €4m contract for signalling works at West Ham in London, and a €25m contract for the signalling elements of a project to raise speeds through Bletchley on the West Coast Main Line from 175 km/h to 200 km/h.
Stanton Bonna is supplying more than 50000 VAX U21 twin-block sleepers with Pandrol fastenings for Manchester Metrolink extensions.