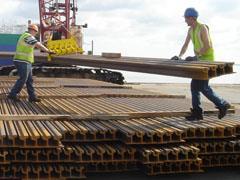 Argentina: NCA has completed work to reopen the 138 km Río Primero – Sebastián Elcano route for grain traffic, closed since 1978. The 180m pesos project has been funded by the federal government.
Australia: Ansaldo STS has signed a five-year framework agreement worth up to A$467m to provide Rio Tinto's Pilbara operations with signalling, communication and automation technology.
The NSW Country Rail Infrastructure Authority has selected Leighton subsidiary John Holland as preferred bidder for a 10-year framework contract valued at A$1·5bn to operate, maintain and upgrade the Country Regional Network in 2011-21, covering 2700 km of operational and 3100 km of non-operational route.
Czech Republic: On November 11 a consortium of Skanska, Eurovia CS and Metrostav completed a KC3·8bn upgrading of the 24 km section of Corridor IV between Benesov u Prahy and Strancice, lifting speeds to 135 km/h to increase capacity for dense commuter traffic.
Germany: Rail.One has supplied 50 000 concrete sleepers with Getzner under-sleeper pads and concrete bearers for 30 turnouts as part of a €130m upgrading of a 60 km section of DB Netz's Berlin – Cottbus route between Königs Wusterhausen and Lübbenau.
India: North Western Railway has selected a joint venture of Valecha Engineering and Russia's Transtonnelstroy to bore a 2 km single-track tunnel for a new broad-gauge alignment between Dausa and Gangpur at a cost of Rs520m.
Malaysia: Trans Resources Corp has won a 950m ringgit contract to build a 9·2 km extension of Kuala Lumpur's Kelana Jaya light metro extension to Summit. UEM Builders and Intria Bina will supply box girders worth 93·2m ringgit. A Bina Puri Holding-Tim Sekata joint venture will extend the Ampang Line 7·4 km from Seri Petaling at a cost of 702·3m ringgit.
Poland: On 7 December PKP PLK selected Kapsch and Kapsch CarrierCom for a 44·2m złoty contract to supply GSM-R for the 84 km Legnica – Wgliniec – Bielawa Dolna route which Bombardier is equipping with ETCS Level 2.
Russia: RZD and Finmeccanica have signed an agreement to develop and test signalling and train control systems based on the Itarus-ATC system and Glonass/GPS. It is intended to be cheaper than European systems, and following trials in Russia will be offered abroad. Ansaldo STS is to form a joint venture with RZD subsidiaries NIIAS and SM which will supply €1·5bn of signalling and tele-coms technology by 2020.
Slovakia: Ceremonies were held on November 25 to mark the holing through of the 1775 m Turecky Vruch tunnel. The first new rail tunnel in Slovakia for 50 years, the double-track bore forms part of the upgrading of 17·5 km of ZSR's Corridor V between Nové Mesto nad Váhom and Zlatovce at a cost of €263·8m.
Sweden: Peab has been awarded two contracts totalling SKr177m for station and bridge works for the double-tracking of the Södertälje Hamn – Centrum line.
Switzerland: SBB is to expand its Zürich Herden depot at a cost of SFr117m to provide facilities for servicing and maintaining the fleet of 59 Twindexx double-deck EMUs ordered from Bombardier in May 2010.
UK: A team of URS Corp, Mott MacDonald and Grimshaw has been awarded a contract to provide High Speed 2 Ltd with engineering design services for the proposed Birmingham – Manchester high speed line.
Network Rail has awarded Jacobs Engineering and WSP contracts for design consultancy during the rebuilding of London Bridge station.
USA: PCL Construction Services has won a $43·1m contract to convert a vacant factory into the operations and maintenance centre for the 18 km Central Corridor light rail line between Minneapolis and St Paul which is due to open in 2014.
The federal Department of Transportation announced on November 19 that it had awarded $50m from the Railroad Safety Technology Grant programme to support seven projects which will facilitate the introduction of Positive Train Control. Beneficiaries include Amtrak, Southern California Regional Rail Authority, New York MTA and the Railroad Research Foundation.