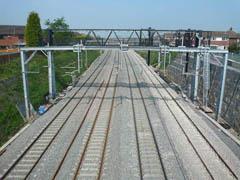 Denmark: Banedanmark has awarded Siemens a DKr200m contract to supply and support GSM-R digital radios.
Germany: Dräger is to supply 36 containerised transport, equipment and fire-fighting units for DB's rescue trains. Self-contained air supplies mean passengers can be protected within the trains without using respiratory equipment.
Indonesia: A consortium of Delhi Metro Rail Corp, Padeco, Oriental Consultants, Ernst & Young, Seneca and local firms is to provide consulting services for the 15·7 km first phase of the Jakarta mass rapid transit project.
Switzerland: SOB has ordered a Schenck Process Multirail BogieLoad Plus bogie test rig, which offers accurate positioning with fully electromechanical spindles.
Turkey: Based on project structures successfully used for airport terminals, TCDD has awarded a Limak/Kolin/Cengiz consortium 19-year seven-month BOT concession to develop a dedicated station for high speed services in Ankara, adjacent to the existing station.