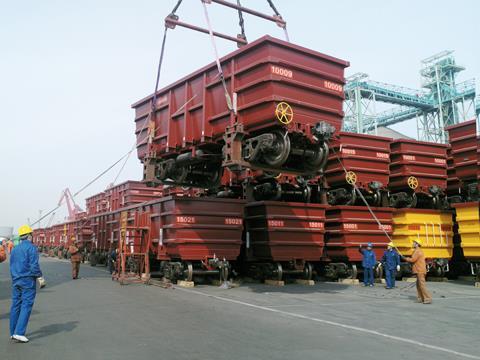 Australia: QR National has placed an A$35m order with UGL for six standard gauge C44ACi locomotives to support its iron ore haulage activities in Western Australia, along with 227 wagons. Deliveries will begin in the second half of 2011.
Rio Tinto has ordered nine GE Evolution locomotives from UGL, and has awarded the supplier a five-year servicing and support contract.
Azerbaijan: Slovakia's ZOS Nymburk is to modernise a further five CKD CME3 Co-Co diesel-electric locomotives for Azerbaijan Railways, having completed an initial five. Five sleeping cars are being converted into one first class and four second class coaches.
Belarus: CZ Loko and BC's Lida works are to remanufacture 49 KD ChME3 shunting locomotives, installing Caterpillar 3512 engines and Siemens electrical equipment.
National railway BC has announced an agreement for Belkommunmash and Pesa to produce diesel railbuses from May 2011.
On October 28 the contract was signed for CNR Datong to supply BC with 12 two-section electric freight locomotives based on the Alstom Prima-derived HXD2 family in 2012 (RG 5.10 p21).
Belgium: Brussels transport operator STIB exercised a €170m option for 65 Flexity Outlook trams in October, bringing its order to 220. The 46 five-section T3000 and 19 seven-section T4000 cars will be delivered from Bombardier's Brugge plant in 2013-15.
China: CNR Tangshan has received a 760m yuan order for coaches from China Railway Investment & Construction Corp.
China Railway Special Cargo Services has placed a 200m yuan order for Type SQ6 double-deck automotive wagons with CNR Qiqihar and CNR Jinan.
Hollysys Automatic Technologies has announced a 202m yuan contract to supply the Ministry of Railways with onboard ATP equipment for trains running at up to 350 km/h.
Beijing Railway Bureau has placed a 2·7bn yuan order with CNR Changchun Railway Vehicle for EMUs to be delivered by June 2011.
Czech Republic: CD has awarded Pars Nova a KC1·55bn contract to convert 62 Class 810 and 010 railcars into Class 814/914 Regionova two-car DMUs by November 2012, part of its strategy of improving the attractiveness of local services.
Metrans has ordered three Siemens Eurorunner diesel locomotives to haul container shuttles between Praha and destinations in the Czech Republic, Slovakia, Hungary and Germany from May 2011.
Europe: To supplement its five MaK DE1004 rescue locomotives, Eurotunnel has acquired two ex-DB Schenker Rail Nederland MaK DE6400 locos which will be able to haul failed trains to either Ashford, London or Calais-Fréthun. The €1·3m cost is being co-financed by Eurostar.
France: MAN Nutzfahrzeuge has secured three orders to supply a total of 3200 engines to France in 2011-20. They will equip Alstom Coradia Polyvalent units for SNCF, 500 modernised SNCF vehicles and repowered Socofer shunters.
Germany: Bombardier is to supply Halle with 12 low-floor Flexity Classic trams between July 2012 and January 2013 under a €29m order, with an option for four more.
On November 19 Bombardier announced that DB Regio had placed a €200m order for 36 three-car and 15 four-car Class 442 Talent 2 EMUs for the Mitteldeutsche S-Bahn radiating from Leipzig, due to launch in December 2013.
Iran: Nencki is supplying a bogie test stand for the depot in Karaj which will maintain 150 Eurorunner-based diesel locomotives being manufactured by Siemens and Mapna.
Italy: Ambrogio Trasporti has ordered 100 six-axle articulated container flat wagons from Czech supplier Legios for delivery in 2010-11.
Ferrovie Udine Cividale has ordered two Siemens ES64U4 electric locomotives for delivery in January and April 2011 at a cost of €7·6m.
Friuli Venezia Giulia region has awarded CAF a €45·6m contract to supply eight EMUs approved for use in Italy and Slovenia.
Netherlands: NedTrain and Voith Turbo have signed a three-year contract to maintain DM-90 DMU transmissions.
Russia: RZD's Freight Two subsidiary is to acquire wagons from Tikhvin Freight Car Building Plant under a five-year agreement.
Sinara Transport Machines has signed a co-operation agreement with AVL List GmbH of Austria to modernise the range of engines produced by Urals Diesel Engine Plant for use in locomotives assembled at Sinara's Lyudinovsky works.
Sweden: Ore train operator MTAB has awarded EuroMaint Rail a three-year contract to maintain Dm3 locomotives used on the Malmbanan.
USA: The state of Connecticut has exercised an option to buy another 42 M-8 EMU cars from Kawasaki Rail Car Inc to work Metro-North commuter services, bringing the total order to 342 vehicles costing $860m.
Progress Rail Services is to repower 16 Pacific Harbor Lines locomotives with Tier 3 Caterpillar 3512C engines under a $12m contract.
On November 15 GATX announced the acquisition of 2500 wagons valued at $150m after a financial institution foreclosed on part of a lessor's fleet.
Zambia: Tazara has placed a 36m yuan order with CSR Meishan for 90 container wagons of 50 tonne capacity, funded with a loan from the Chinese government. An order for six locomotives is expected to follow.