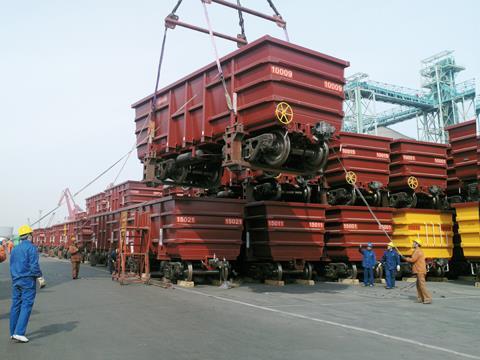 Australia: CNR began delivering 260 ore wagons designed for 40 tonne axleloads to Fortescue in December.
China: Last month GE Transportation and the Ministry of Railways signed a letter of intent to provide $350m of US-built locomotives, sub-assembly kits, service support and signalling systems.
Czech Republic: Pesa has won its first order from CD, a 318m złoty contract to supply 31 two-car 120 km/h regional DMUs by the end of 2013.
Egypt: The first of 52 nine-car trainsets to be refurbished for Cairo Metro by Alstom and local partner Cairo Metro Organisation under a €19m contract was handed over on January 1. The work is being carried out at CMO's Tura workshops and will run to 2014.
Europe: On January 4 Bombardier announced the signing in December of orders worth €362m to supply rolling stock to 'an undisclosed customer'.
In January VTG awarded EuroMaint Rail a framework contract for tank wagon overhaul and wheelset management.
France: On January 4 Alstom announced orders worth €125m to supply 10 Régiolis multiple-units for the Poitou-Charentes region and 12 for Auvergne, within a framework agreement awarded in October 2009.
Germany: In December Abellio Rail NRW awarded Alstom a framework contract covering the supply of five to 15 two-car DMUs.
Hamburg–Köln Express has awarded Polish firm H Cegielski a contract to refurbish 18 ex-ÖBB Class 4010 inter-city EMU cars for the open-access services it intends to launch in September.
Israel: Vossloh España has been selected to supply ISR with 15 diesel-electric locomotives worth €70m from the end of 2011. There is an option for five more, and the total order could reach 30 locos worth €105m.
Kosovo: In December TZV Gredelj signed a 5·3m kuna contract to remanufacture a second JT38CW-DC locomotive (RG 11.10 p68).
New Zealand: CNR Qiqihar has won a NZ$29m contact to supply KiwiRail with 300 container wagons.
Norway: Rolling stock leasing company Oslo Vognselskap signed a €180m contract with Siemens Mobility on December 21 for a further 32 three-car MX3000 metro trainsets to be manufactured in Wien for delivery to Oslo in 2012.
NSB's Mantena unit has awarded EuroMaint Rail a two-year contract to maintain BM73 trainsets used on Oslo – Göteborg services.
Poland: Pesa signed a 50·3m złoty contract on December 17 to supply MPK Czestochowa with seven 120Na low-floor trams by November 2012.
Pesa has been awarded a 9m złoty contract to rebuild the prototype SA106-001 single-car DMU now owned by Kujawsko-Pomorskie voivodship as a two-car unit with MTU engines.
Romania: Remarul has refurbished 14 ex-DB Class 614/914 and 624/924 DMUs bought from Swiss firm Heros Südosteuropa for lease to TFG which will deploy them on Cluj Napoca – Oraea services.
South Africa: The first two of 100 Class 43 GE Transportation C30-ACi diesel locos ordered by Transnet Freight Rail was delivered in January. The initial 10 are being built in the USA, and 90 will be assembled in South Africa.
Spain: RENFE has agreed to sell four Class 319 diesel locos to open-access freight operator Continental Rail, with two to be acquired by Tecsa and two by Tracción Rail. The transaction is valued at €79m.
ADIF has awarded Patentes Talgo a €197m four-year contract to maintain its 'Seneca' high speed inspection and recording train (RG 2.08 p75).
Sweden: In December Västtrafik awarded Bombardier a SKr673m contract to supply six more Regina EMUs.
Ukraine: On December 16 Hyundai Rotem signed a US$304m contract to supply UZ with 10 nine-car 160 km/h inter-city EMUs (RG 12.10 p11). Six will arrive before the Euro 2012 football championship.
UK: DB Schenker Rail has returned to traffic the first of seven Class 60 diesel locos which are being modernised at the operator's Toton workshops at a cost of £3m to improve reliability and extend their life by 15 years. A further 14 are planned to follow.
USA: On December 15, Delaware River Port Authority agreed to award Alstom a $194·2m five-year contract to overhaul 120 EMU cars used on the Patco cross-river line linking Philadelphia and Lindenwold, New Jersey.
Sonoma-Marin Area Rail Transit has awarded Sumitomo and Nippon Sharyo a $56·9m contract to supply nine two-car DMUs in 2013-14 for the 112 km Cloverdale – Larkspur commuter line. The contract includes options for a further nine cars, and more than 100 vehicles for other transit agencies including Denver, Portland and Harris County (Houston).