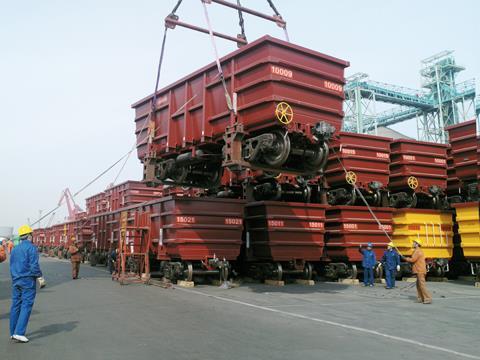 Argentina: The latest batch of ex-RENFE rolling stock to arrive in Buenos Aires comprises nine Class 319 diesel locomotives and two Talgo IV trainsets of nine cars each. The federal government expects to call tenders shortly for a contract to refurbish secondhand traction and rolling stock acquired from Spain and Portugal.
Suburban concessionaire TBA has brought into service three air-conditioned double-deck coaches built in Argentina by Emfer (RG 2.10 p19). Offering a total of 310 seats, they are deployed on a limited-stop weekday service between Mercedes and TBA's Once terminus in Buenos Aires, hauled by an ex-RENFE Class 319 diesel locomotive.
Australia: CNR Qiqihar has begun delivering 196 coal hoppers to Pacific National.
Brazil: 500 hopper wagons are to be refurbished for R$60m to cut unloading times from 1 h to 10 min, in order to support a contract awarded to FCA by Copersucar SA to haul up to 3 million tonnes of sugar a year from Ribeirão Preto to the port of Santos.
CBTU has placed a R$217m order with CAF for 15 four-car trainsets for Recife's 3 kV DC metro network, as part of preparations for the 2014 World Cup. The first delivery is due in 20 months.
Canada: Nomad Digital has been awarded a five-year contract worth C$63m to design, install, operate and maintain passenger wi-fi on VIA Rail trains in the Ontario – Québec corridor. Nomad says this will be the first deployment of 802.11n technology to provide the high-speed wireless ethernet backbone on each train.
China: CNR Yongji Electric and the Southwest Jiaotong University are testing a hydrogen fuel cell locomotive with permanent-magnet traction motors,
CSR Puzhen Nanjing and Guangzhou Urban Rail Equipment Co have ordered NBT Coach 2 x 250 kN bogie test stands from Nencki.
Czech Republic: ZOS Vrútky is to modernise 21 WRm dining cars under a KC728m contract which includes new seats and plug doors, electrical supplies, windows, vacuum toilets, air-conditioning, passenger information systems and a speed increase to 160 km/h.
Janoza CZ is to refurbish 52 coaches for inter-regional services for KC56m, and 58 coaches for regional passenger trains for KC73m.
Dominican Republic: Santo Domingo metro developer Opret has awarded Alstom a €101m contract to supply and maintain 15 three-car Metropolis trainsets to work the 21 km Line 2 with 20 stations when it opens in early 2012.
Finland: In conjunction with the procurement of locomotives to replace its Soviet-built fleet (RG 11.10 p12), VR plans to acquire double-deck driving cars to enable push-pull operation.
Israel: ISR has ordered a further 72 double-deck coaches under its October 2010 framework agreement with Bombardier (RG 10.10 p23).
Malaysia: Siemens Mobility has won a €65m contract to supply traction and control equipment for 38 six-car EMUs being supplied by CSR Zhouzhou to raise capacity on KTMB's Kuala Lumpur suburban network.
Netherlands: Arriva has awarded Strukton Rail a 15-year contract to maintain 14 electric and 24 diesel Stadler GTWs ordered in July (RG 8.10 p 21) as well as two Lint DMUs. Strukton Rail will erect a depot at the former freight yard in Zutphen.
On December 8 NS Reizigers announ­ced that it will not exercise an option for a further 30 Bombardier/Siemens Sprinter EMUs, as customers and staff are unhappy with the lack of toilets. Parliament has voted that when the core network is open for bidding in 2015 every train must have a toilet.
New Zealand: CNR is to supply KiwiRail with 300 container flat wagons for NZ$29m.
Poland: Podlaskie voivodship has selected Pesa for a 18m złoty contract to supply two two-car DMUs.
Pesa was sole bidder for a contract to supply MPK Bydgoszcz with 15 metre-gauge trams. The 31 m Swing cars will be delivered within 48 months at a cost of 139m złoty for a route to the Fordon area which opens in 2013.
Russia: RZD is planning to buy 1250 locomotives in 2011-13 at a cost of 112bn roubles. Fleet modernisation will bring a 16% increase in loco­motive productivity by 2015.
Negotiations for RZD to buy a fleet of double-deck hotel trains from Alstom-TMH have ended without a deal being finalised (RG 1.09 p17).
Sweden: Hector Rail has ordered two more Bombardier Traxx electric locomotives for delivery in August; it has also acquired a secondhand Class 242 Eurosprinter from MRCE.
Switzerland: Rolling motorway operator RAlpin has bought 20 Bcm61 couchette cars from SBB for use on Freiburg im Breisgau –Novara services from December 2011.
Regional operator Thurbo has ordered 12 Stadler GTW 2/8 EMUs to operate a 30% increase in St Gallen S-Bahn services from the December 2013 timetable change.
USA: South California Regional Rail Authority has taken up an option for 20 more Hyundai Rotem double-deck coaches, bringing its order to 137.
NJ Transit has approved a $15·6m overhaul and refurbishment of 170 Arrow III EMU cars.