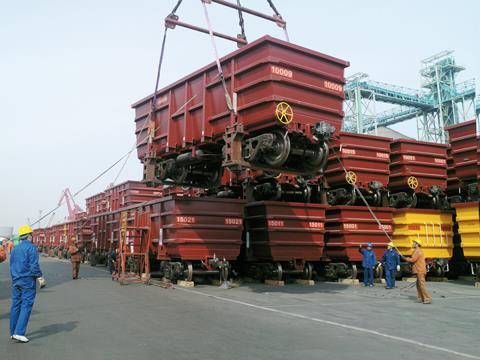 Australia: UGL has announced orders worth A$100m to supply QR with four C44ACi locomotives and 160 QHBH wagons for use in the Hunter Valley, and 200 VCB wagons for the Bowen Basin.
Brazil: Singapore's ST Electronics has won a S$4·6m contract to supply passenger information systems for 19 six-car trainsets which CNR Changchun is building for the Rio de Janeiro metro.
The World Bank has approved a US$650m loan to the state of São Paulo to buy 26 trains, signalling and platform screen doors for the US$2·2bn project to extend metro Line 5 11·7 km to Chácara Klabin.
Canada: On May 6 Toronto Transit Commission approved a C$398·5m order for another 186 Rocket subway cars from Bombardier. 60 are for the Spadina subway extension to York and 126 to replace life-expired stock. It is an option on the C$710m contract for 234 cars signed in 2006.
China: Schaffner Group has won a second order to supply Siemens with transformers for high speed trainsets for the Beijing – Shanghai route.
CSR Puzhen has announced that 83 coaches for tourist services from Shanghai to Lhasa in Tibet will enter service from July 1. They are designed to withstand severe conditions at high altitude, including low pressure, ultraviolet light, sand and storms.
Germany: Greenbrier's Swidnica plant is to supply BLG Autorail with 140 car-carrying wagons in 2011.
Guinea: Five CSR Qishuyan diesel locos and 19 coaches and three generator cars from CSR Nanjing Puzhen have been supplied from China.
Japan: Knorr-Bremse has won its first order in the Japanese high speed sector, to supply JR East with braking components for the traction bogies of 23 Series E5 trainsets. Discs and sintered pads were specially developed for emergency braking in an earthquake.
Last month Kinki Sharyo rolled out the first of 226 Series 225 EMU cars ordered by JR West for commuter services around Osaka, Kyoto and Kobe. They incorporate additional safety measures including crumple zones specified after the 2005 Amagasaki derailment which killed 107 people,
Norway: DSB's Århus workshop in Denmark is to refurbish the 16 EMUs used on Flytoget services to Oslo's Gardermoen airport.
Stadler has been awarded a €12m order to supply a further five Variobahn trams for Bergen's Bybanen light rail line, which is to be extended to Rådal. The first phase of the line is due to be opened by Queen Sonja on June 22.
Poland: Wroclaw has ordered an additional three 19T trams from Skoda for 30m zloty as an add-on to a 2009 contract for 28.
Russia: Freight One has ordered 1200 fertiliser wagons from Transmash's Bryansk Engineering Plant for delivery by 2011.
Sweden: On May 11 Alstom Transport announced a €102m order to supply Stockholm transport authority SL with a further 12 Coradia Nordic X60 EMUs to be used on Stockholm – Uppsala services from 2012.
South Africa: Two former Trans-net 610 mm gauge GE UM6B Class 91 diesel locos are being usedby Rail Road Logistics in the Free State goldfields after conversion to 1067 mm.
USA: Newly-formed WL Ross-Greenbrier Rail Holdings has acquired a lease portfolio of almost 4000 wagons worth $230m. WLR-GBX is owned by affiliates of WL Ross, and the vehicles will be managed by Greenbrier.
FTA has awarded Portland's Tri-Met $2·4m to cover 80% of the cost of a programme by United Streetcar to develop domestic light rail propulsion technology, including a system to enable trams to run for short distances without overhead electrification.
Amtrak has begun a 12-month trial running a GE P32-8 locomotive used on Heartland Flyer services with a B20 blend biodiesel made with 'beef byproduct'.
Uzbekistan: UTY has begun taking delivery of 15 CSR Zhuzhou electric locos with AC traction ordered last June. they follow from an initial 12 with DC motors supplied in 2003.