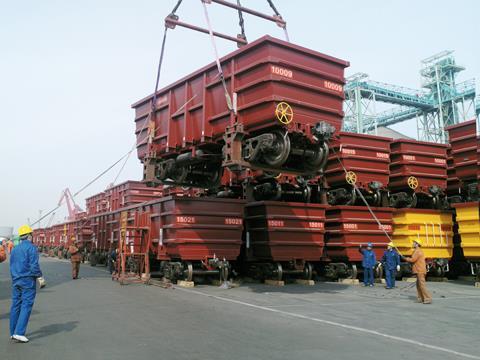 Australia: Genesee & Wyoming has ordered seven locos from Downer EDI for use on its Tarcoola – Darwin line from December.
The government of Western Australia has selected an EDI Rail-Bombardier joint venture for a A$317m contract to maintain and clean its 239 narrow gauge DMUs and EMUs for 7½ years from January 2012, replacing a number of separate contracts.
CNR Qiqihar Railway Rolling Stock has signed a 129m yuan contract to supply ore wagons to Hamersley Iron.
Azerbaijan: Caspian Sea shipping line Caspar has ordered two 54-wagon train ferries costing €22m each from Croatian shipbuilder Uljanik, with an option for a third. They will be delivered in October 2012 to meet demand arising from completion of the Kars – Tbilisi – Baku line.
Bulgaria: Metrovagonmash is to supply 18 three-car Rusich series 81-740/741 trainsets for the expanding Sofia metro.
China: CNR Changchun is to supply trains for Harbin metro Line 1 under a 621m yuan contract.
Beijing Railway Bureau has awarded CNR Changchun a 3·87bn yuan contract to supply CRH5 EMUs.
CNR Changchun has shipped the first of 10 eight-car metro trains ordered by Hong Kong MTR in December 2008 for HK$1·1bn. They are due to enter service from November with deliveries completed by the end of the year.
CNR Qiqihar has built a Type DQ45 450-tonne 'Schnabel wagon' designed to carry outsized loads, claimed as the largest in Asia. Its first trip carried the stator of a 1000 MW steam turbine from Harbin to Henan.
Europe: Europorte has ordered 12 Vossloh Euro 4000 diesel locomotives; two were due to arrive last month, the rest in the second half of 2012.
Eurostar has selected Compin to provide seats for the refurbishment of its cross-Channel high speed trains.
Georgia: Following an initial contract in 2007, CSR Nanjing Puzhen is to supply GR with a further five 3 kV DC 120 km/h four-car EMUs.
Repair company Rustavi Wagon Construction is to enter the new-build market this year, supplying 185 tank wagons to GR. It will also modernise 42 tankers and 120 wheat hoppers.
Elmavalmshenebeli is modernising eight electric locos for 20m lari.
Hungary: MÁV-Trakció has awarded Bombardier a €5·2m contract to adapt its 25 Traxx P160 AC2 locomotives for use in Slovakia, Serbia and Romania, with an option for a further 25 locos.
India: Rolling stock procurement in the 2010-11 financial year was the highest since independence according to IR, at 16628 wagons, 3079 coaches, 267 diesel and 230 electric locos. New line construction reached 709 km while 837 km was converted to broad gauge, 3 km ahead of target.
Iran: CNR Qiqihar Railway Rolling Stock is to supply type ZK1-E wagon bogies to Rahvar Kowsar Rail Transport and Wagon Kowsar under a 210m yuan contract.
Italy: On April 27 Bombardier announced a €128m order to supply Trenitalia with a further 50 Class E464 electric passenger locos in 2012-13. This takes Trenitalia's total E464 order to 688, 'one of the largest single vehicle type fleets in Europe'.
Arenaways has signed an agreement to lease three Talgo hotel train formations from RENFE at a cost of €17m over five years. The open access operator has requested paths from Torino to Villa San Giovanni and Bari, and says the agreement makes provision for joint overnight operations between Spain and Italy.
Kazakhstan: CNR Import & Export is to supply Too Intersnab with 2000 open wagons.
Mongolia: CNR has won contracts totalling 200m yuan to supply diesel locomotives and wagons to Mongolia by January 2012.
Poland: ZNTK MM and BRE Leasing are to undertake a 43m złoty refurbishment of five EN57 EMUs which Lubelskie voivodship has bought from PR.
CZ Loko has won a 1·98m złoty order to supply a diesel shunter to the Adamów lignite mine near Turek.
PKP PLK has selected Europejskie Konsorcjum Kolejowe Wagon to repair 37 rail-carrying wagons.
Russia: Vagonmash is to supply four dining cars to RZD's long-distance operator Federal Passenger Co.
Spain: Feve has ordered another four Vossloh three-car tram-trains for €21·8m to run on the Gijón – Laviana line from 2013.
Metro de Sevilla is to buy four Urbos 2 vehicles from tram operator Metrocentro for €9·5m, increasing its fleet to 21 (RG 4.11 p20). They will be modified for metro use before entering service this year.
Sweden: LKAB has ordered a further four Bombardier Iore twin-unit electric locomotives for delivery from May 2013 to March 2014, bringing its total to 17. Kockums will supply 300 iron ore wagons for SKr400m.
Switzerland: SBB has exercised a SFr128m option for a further 13 Stadler Flirt four-section EMUs to be delivered in 2012-13 for services from Olten to Luzern and Biel.
USA: Marta has awarded Siemens a $17m contract to supply four street-running versions of its S70 light vehicle for a 4·3 km 12-stop tram line to open in central Atlanta in early 2013.
GE Transportation has selected Fort Worth, Texas, as the location for a $96m plant to produce new and remanufactured locomotives from 2012.
RJ Corman Railpower has begun delivering five RP20BD genset shunting locomotives to Modesto & Empire Traction in California.