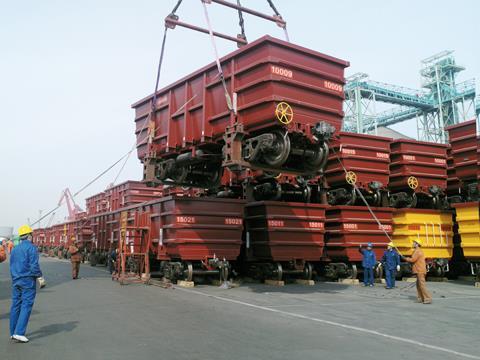 Argentina: Following delivery by Emfer, a sixth EMU comprising four refurbished vehicles and four new double-deck cars (RG 4.11 p9) has entered service on the Sarmiento commuter route in Buenos Aires.
Australia: On May 1 Wabtec announced an order for its MotivePower subsidiary to deliver 10 standard gauge MP33C diesel locomotives to the Cfcla Rail leasing joint venture of CFCL Australia and Marubeni Corp during 2013.
Austria: ÖBB has put into service 10 coaches refurbished with 24 bicycle spaces and 36 seats. The Regio-Biking cars will serve popular cycling routes in summer and carry skis in winter.
China: Within four months of the order being placed, CNR Xi'an has delivered 500 GQ70 tank wagons to China National Petroleum.
CSR Zhuzhou CSR Times Electric has won a 280m yuan contract to supply traction equipment for trains ordered for Chongqing Line 6.
Czech Republic: RegioJet has bought 12 Am61 coaches from SBB.
India: Chicago-based leasing firm GATX Corp has entered the Indian market with the purchase of 10 rakes of 45 container wagons which its GATX India subsidiary will lease to Arshiya Rail Infrastructure for 10 years.
Italy: Tenders close on June 15 for two contracts totalling €125bn to supply Trentialia with 70 EMUs, each able to seat 280 passengers, with an option for 20 more, and 40 DMUs with 130 seats, also with an option for 20 more sets. Trenitalia hopes to sign both deals by the end of this summer.
Japan: Knorr-Bremse has won a 'major order' to supply braking systems for the 23 Series E6 high speed tilting trainsets which are scheduled to enter service with JR East between Tokyo and Akita in early 2013.
Namibia: Last month CSR Yangtze completed delivery of open wagons to Namibia under its first African order, placed in October 2011.
Poland: Zachodniopomorskie voivodship has awarded Newag a 24m zloty contract to supply a pair of two-car DMUs for use on cross-border services into Germany from August 2014.
Lubelskie voivodship has ordered a two-car SA137 DMU from Newag for 19·7m złoty.
ZKM Gdansk has taken delivery of the last of 46 ex-Dortmund N8C trams rebuilt by Modertrans with a low-floor centre section.
Pomorskie voivodship has awarded ZNTK MM and Pesa a 21·4m złoty contract to modernise three EN57 EMUs bought from PR.
Russia: Global Container Service Group is taking delivery of 224 flat wagons from TMH's Engels plant for use by its intermodal subsidiary Ruscon on routes from the Black Sea port of Novorossiysk.
On May 18 Federal Passenger Co ordered eight type 61-4445 and 70 type 61-4447 coaches from TMH's Tver plant. The 160 km/h cars with Knorr-Bremse brakes will be allocated to Moscow and St Petersburg.
October Railway is taking delivery of 52 ED4M EMU cars from TMH's Demikhovo plant and also ET4A units from Torzhok.
Metrovagonmash has begun series production of 632 Type 81-760/761 cars for delivery to Moscow Metro by the end of 2013. Track-friendly bogies are designed to provide quieter running and lower maintenance costs than the vehicles they will replace, and despite better acceleration they are expected to be more energy efficient.
Sweden: Having paid SKr20m for a 30% stake in freight operator RushRail which has a major forest products transport contract with Trätåg, Bure has ordered seven Bombardier Traxx F140AC electric freight locomotives for delivery by the end of the year at a cost of €24m.
Euromaint has been awarded a renewed and expanded contract to manage stores inventory on behalf of Inlandsbanan, which said the agreement offers greater control of stock and component processing, enabling the operator to focus on core activities.
Ukraine: KVSZ has obtained type approval for a prototype metro trainset equipped with asynchronous drive.
UK: Merseytravel is to appoint a project director to oversee the procurement of a fleet of suburban EMUs for the Merseyrail 750 V DC third rail network centred on Liverpool. Tendering for 150 to 250 cars is planned for this year, with delivery scheduled by 2017.
Transport for London is seeking expressions of interest in the supply of eight three or four-car DMUs to increase capacity on London Overground's Gospel Oak – Barking line from 2013.
USA: Progress Rail Services is to supply RailAmerica's San Joaquin Valley Railroad with four PR30B low-emission locomotives repowered with Caterpillar 3516C-HD engines.
Uzbekistan: Using a loan from China's Exim bank, national railway UTY has placed a US$42m order for 11 CNR Dalian electric freight locomotive sections.