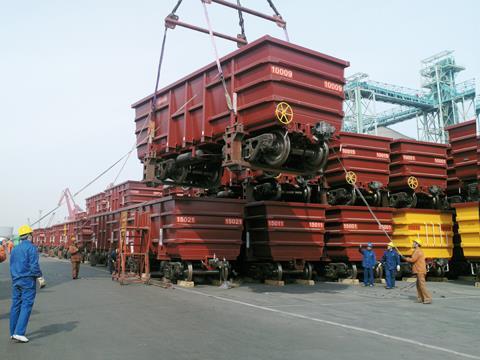 Brazil: Porto Alegre operator Trensurb has called tenders for 15 four-car EMUs worth up to RS$220m, funded by the federal government's PAC programme to stimulate economic growth. Price is the main criterion, but preference will be given to domestic production.
Vale has commissioned Romanian firm Astra Vagone to supply a fleet of passenger coaches for long-distance services running up to 20 h. Molinari Rail is to equip 10 generator cars which will have Caterpillar engines and Hitzinger generators.
CBTU has called tenders for 20 three-car diesel-electric light rail vehicles. 12 would be for the city of Natal and eight for João Pessoa.
China: CNR Dalian is to supply 38 six-car Type B trainsets for Dalian metro Line 1, which is under construction for opening in 2014.
Europe: Grammer is to supply 8940 seats for the 10 Siemens Velaro e320 trainsets ordered by Eurostar.
France: Alstom has delivered the first of 12 high-capacity Citadis trams for Lyon route T3. At 42 m they are 10 m longer than the existing fleet.
Germany: Under a 2008 framework agreement, on October 1 DB announced a €50m order for a further five Bombardier Twindexx Vario four and five-car 160 km/h double-deck EMUs, to be delivered from the second half of 2014 for regional services.
KfW Ipex-Bank is funding Regentalbahn's purchase of eight Stadler RegioShuttle railcars which will enter traffic on Vogtland services in December.
Israel: Under a 2010 framework agreement, ISR has placed a €122m order for a further 12 six-car push-pull rakes of Bombardier double-deck coaches to be delivered in 2014-15.
Italy: ATM Milano has awarded AnsaldoBreda a €210m contract to supply 20 six-car metro trainsets to replace the existing fleet on Line 1, and 10 six-car sets for Line 2. There is an option for 30 sets.
Bombardier's Vado Ligure facility is to modernise 110 Trenitalia regional coaches by November 2014, fitting the 30-year old vehicles with new interiors and upgraded doors, bogies and air-conditioning.
Japan: Kinki Sharyo is testing a prototype battery-diesel hybrid multiple-unit.
Knorr-Bremse has been awarded a contract to supply brake components for JR East's future Series E7 high speed trains (RG 10.12 p8).
Lithuania: LG has ordered three Pesa 630M two-car DMUs for delivery between May and December 2013.
Poland: Lubelskie voivodship has awarded a consortium of Pesa and ZNTK MM a 24m złoty contract to supply three two-car DMUs by the end of September 2013.
Zachodniopomorskie voivodship has bought seven EN57 EMUs from PR for 7·5m złoty. They will still be operated by PR, but the ownership change enables public funding to be used for refurbishment.
Newag and ZNTK MM are to modernise 34 EN57 EMUs for Koleje Mazowieckie at a cost of 273m złoty. The project includes fitting complete new interiors, and AC motors and IGBT traction equipment in place of DC motors and resistors.
Romania: Remarul 16 Februarie hopes to assemble its first AGC multiple-unit under licence from Bombardier next year.
Russia: Belarus firm Belkommunmash has won an order to supply three Type 843 trams to St Petersburg, the first export order for the design which is currently in service in Minsk.
RZD and Tatravagonka have agreed to develop wagons able to carry exceptional loads of up to 500 tonnes.
Private freight operator Eurosib has signed an MOU setting out plans to order 50 GE Transportation TE33A locos from JSC Lokomotiv in Kazakhstan.
Pesa has won its first order to supply trams to Russia, a €4·5m contract to deliver three Swing trams for the metre-gauge system in Kaliningrad where a five-year tramway rehabilitation programme has been announced.
South Africa: Transnet and a 70: 30 joint venture of CSR Zhuzhou and Matsetse Basadi signed the 2·54bn yuan 'CSR E-loco Supply' contract for 95 dual-voltage electric locos on October 22 (RG 10.12 p8). The first 10 are to be imported from China by December 2013 and the rest assembled locally by September 2014.
UK: Train operator Southern has selected Porterbrook Leasing to fund 130 Bombardier Electrostar EMU cars ordered last December.
USA: FRA has awarded Pennsylvania State University and Norfolk Southern a $400000 grant to continue research into battery locomotives. NS will contribute an additional $590000.