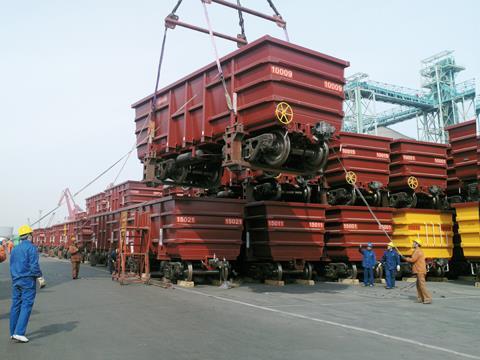 Australia: CAF has won a A$20m contract to supply six new and four leased trams for Sydney's 5·6 km Inner West Extension which is scheduled to open in 2014 (RG 7.12 p16). A separate three-year contract worth A$1·8m covers maintenance of the new vehicles and the existing fleet of seven Adtranz Variotrams.
China: Nanjing Metro has awarded a consortium of Nanjing SR Puzhen Rail Transport, Alstom Transport and Shanghai Alstom Transport Electrical Equipment a 588m yuan contract to supply 15 six-car trainsets in 2013-14 for the Nanjing-Gaochun Intercity Rail project, a 35·6 km line to the city's Lukou International Airport.
CSR Zhuzhou has won a 3·35bn yuan order to supply locomotives to Shanghai Railway Bureau.
Nanjing SR Puzhen has been awarded a 1bn yuan contract to supply trainsets for Hangzhou metro Line 2.
CSR Nanjing Puzhen has announced recent orders to supply coaches to the railway bureaux of Beijing (1·03bn yuan), Nanchang (0·74bn), Lanzhou (0·47bn), Wuhan (0·44bn), Jinan (0·38bn) and Zhengzhou (0·24bn), while Guangzhou Railway Group has ordered coaches worth 0·26bn yuan. A 0·22bn yuan maintenance deal has been signed with MOR.
CSR Yangtze has won orders to supply wagons to China Railway Materials Import & Export (0·41bn yuan) and Australia's FMG (0·15bn) and PN (0·28bn).
Germany: DB has awarded Grammer a contract to supply 33 types of first and 41 types of second class seat, a total of 46000 seats, for the refurbishment of 770 inter-city coaches.
India: Kolkata Metro Rail Corp has awarded CAF a 110m contract to supply 14 six-car air-conditioned trainsets for the future 14·7 km east–west metro line. There is an option for a further 21 of the stainless steel cars.
Eastern Railway has begun testing 10 nine-car EMUs developed by BEML to a revised design with stainless steel car bodies. IR plans to replace existing steel EMUs in Kolkata, Delhi, Mumbai and Chennai which suffer from corrosion. The EMU offers a modern appearance with 3+3 seating equivalent to 'sophisticated metro cars'.
Hyderabad metro Dbfot concessionaire Larsen & Toubro Metro Rail (Hyderabad) has awarded Hyundai Rotem a Rs18bn contract to supply 57 three-car trainsets in 2014-17. Bids were also submitted by Bombardier, CAF and CSR Corp. The contract is denominated in rupees so that L&T is not exposed to foreign exchange risks.
Israel: ISR has exercised an option for nine more Vossloh Euro 3000 diesel locos to be delivered from November 2012, taking its total order to 24.
Kazakhstan: KTZ has ordered locomotives worth 0·38bn yuan from CSR Ziyang.
Lithuania: LG has ordered another Skoda Class 575 double-deck EMU for KC200m. Ridership between Vilnius and Kaunas has grown by 16% since the first was delivered in 2008.
Poland: PKP IC has awarded ZNTK Olesnica a 10m złoty contract to rebuild two EU07 locomotives as EU07A, uprated to 3·2 MW with a top speed of 160 km/h.
PR is to lease 10 Class 163 electric locomotives from Czech Railways until the end of 2016 at a cost of 26m złoty.
The city of Olsztyn has placed a €30m contract for 15 Solaris Tramino low-floor trams with 36 seats and space for more than 230 passengers at 5/m2 (p59). FCC Construcción began construction of the 11 km line last month, for opening in 2014.
Koleje Slaskie has selected Pesa to supply six six-car Elf EMUs for 178m złoty.
Russia: Vagonmash and Skoda are to supply nine six-car aluminium-bodied metro trainsets to St Petersburg for KC2bn.
Saudi Arabia: Talgo has awarded Bombardier contracts worth €281m to supply and maintain Mitrac 3000 traction and control packages and Flexx Power 350 power car bogies for the 36 Talgo 350 trainsets ordered for the 444 km Haramain High Speed Rail project.
South Korea: Hyundai Rotem has awarded Nexans a €3·5m contract to supply Flamex control and power cables for 10 KTX-II trainsets.
Sweden: Östgötatrafiken has placed a €50m order for eight more Alstom Coradia Nordic X61 four-car regional EMUs to be delivered by early 2015, taking to 13 the total ordered within a 2008 framework agreement.
Ukraine: Inekon has won a US$20·5m contract to supply electrical equipment for 112 VL11M/6 twin-unit 3 kV DC locos ordered by UZ from Elmavalmshenebeli.
USA: Washington metro has taken delivery of a custom-built Ensco track geometry vehicle.