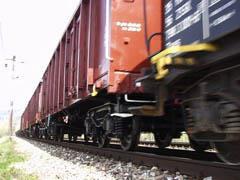 Australia: Victoria state premier John Brumby has announced an order for a further nine three -car Bombardier VLocity DMUs to boost capacity on the V/Line network, along with an extra centre car to lengthen an existing two-car unit.
Croatia: During June TŽV Gredelj delivered eight modernized passenger cars to HŽ. Three couchette cars were extensively tested on the network during mid June.
In early June TŽV Gredelj delivered the first two Class 2132 shunters from the second batch to be upgraded under the 2132.3 modernisation programme. They are equipped with cab air-conditioning.
Cuba: Following the acquisition of 40 DF7G-C diesel-electric locomotives from China Northern (RG 7.08 p414), UFC is looking to order 28 locomotives from a Russian supplier next year.
Denmark: A Siemens ES64F4 multi-system locomotive has completed trials in the Storebælt tunnel to establish the maximum trailing load which can be hauled in Denmark. Four tests demonstrated that the locomotive was able to start a train of 36 wagons with a total weight of 2 011 tonnes.
Europe: Eurotunnel has awarded Brush Traction a contract to return to working order five Class 92 electric locomotives which were put into open storage after being built for Channel Tunnel services that never materialised.
France: RATP has awarded Alstom a €9·4m contract for the installation of video surveillance equipment on 476 MI79 cars on Paris RER Line B by 2013.
Germany: Erfurt operator EVAG has called tenders for 14 metre-gauge trams, within a budget of €26m.
Greece: AnsaldoBreda, CAF and a partnership of Hyundai Rotem and Hanwha Attiko Metro submitted bids to supply 17 six-car trainsets for Athens metro lines 2 and 3. The winner will be announced in early 2009, within a budget of €155m.
Iraq: IRR is seeking 140 km/h passenger trainsets. The specification requires 3 000 hp diesel power cars on each end of a rake of eight coaches, which is to include five 72-seat tourist cars, one eight-compartment sleeper, a 48-berth couchette and a dining car.
Italy: On August 1 Ferrovie del Sud Est took delivery of 10 Silberling coaches formerly used by Deutsche Bahn and Luxemburg's CFL. Refurbishment work was carried out in Croatia by TŽV Gredelj.
Kazakhstan: China Southern has announced its entry to the Kazakh market with a contract to supply 15 winterised diesel locomotives to KTZ for use at the Dostyk border with China.
New Zealand: Faiveley Transport is to supply braking equipment for the 45 two-car 'Matangi' EMUs being built by a consortium of Hyundai Rotem and Mitsui for use on Metlink suburban services in Wellington.
Poland: PKP LHS has awarded Newag a contract to modernise a further eight 1 520 mm gauge ST44 locomotives as Type 311Da by May 2009.
The Wielkopolskie region has placed an order with PESA for two air-conditioned Type 218Md DMUs to be delivered by the end of the year
South Africa: Quadsoft has won a R16·4m contract to supply 280 Train Cab Systems to replace life-expired communications equipment on locos used by Transnet Freight Rail to haul coal trains. 30 portable units will be supplied for locos that are not normally allocated to coal traffic.
Spain: Under its €442m freight rolling stock investment programme, RENFE is to acquire 75 Multifret wagons and 160 Megacombi swap bodies to carry car parts for Renault-Nissan and PSA Peugeot Citroën. Talleres Alegría has been awarded a €14·55m contract to supply 100 Type MA twin-section wagons to carry new cars.
Tanzania: At the end of July India's Golden Rock workshop shipped two diesel locomotives and 23 metre-gauge coaches refurbished for use in Tanzania at a cost of Rs50m.
UK: The Department for Transport has selected Virgin Rail Projects for a £3m contract to support the procurement of four new 11-car Alstom Pendolino trainsets plus 62 cars to lengthen existing trains. Govia Transportation Projects was the only other bidder.
London Midland has returned to service the first of 10 Class 153 single-car DMUs being refurbished by Wabtec.
USA: On August 13 NJ Transit agreed to exercise a $76m option with Bombardier for an additional 50 double-deck coaches, bringing its total order to 329 vehicles.
Uzbekistan: UTY has awarded CSR Zhuzhou a contract to supply 15 electric locomotives with AC drives for use on 160 km/h international passenger services from 2010.