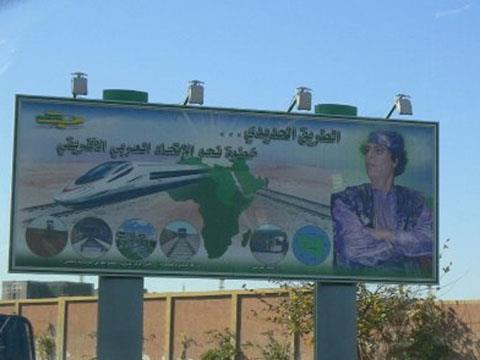 LIBYA: A year after the April 2008 construction contract came into force in December 2008, Russian Railways President Vladimir Yakunin visited Libyan Railways Chairman Said Mohammed Rashid on December 5 to discuss progress with the 554 km Surt - Banghazi railway, being built by RZD under a €2·2bn contract.
A total of 3 500 workers from Libya and Russia will be involved in the four-year construction phase, and housing for more than 400 is nearing completion at the future Ras Lanuf station. Some of the heavy construction and railway equipment has now been delivered, including a track laying machine, flat wagons and a 100 tonne crane.
The Surt - Banghazi route parallels the Mediterranean coast, with six major and 24 minor stations planned. The double-track line will initially be operated using 16 diesel locomotives currently being built by GE Transportation, but electrification is planned to permit 250 km/h running.
'When the Libyan leadership declared its goal of making the country a railway power, Russian Railways offered to use its wealth of experience to realize this project', said Yakunin. 'For RZD, it is a great honour to build a railway in Libya. To accomplish this, the Russian company will use modern track equipment and the latest technology.'
Yakunin noted that Russia has more than 170 years of experience of building railways in harsh environments, 'through tundra and desert, across mountainous areas and the broadest rivers.'
China Railway Construction Corp has a series of contracts covering the 625 km section of the coastal railway west from Surt to Al Khums, Tripoli and Ras Ejder on the Tunisian border, and an 800 km link running inland from Misratah to iron ore deposits near Sabha.