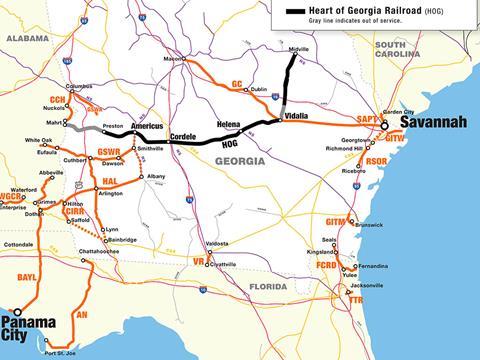 USA: Genesee & Wyoming has agreed to acquire Atlantic Western Transportation Inc, the parent company of the Heart of Georgia Railroad short line. The deal announced on February 8 is subject to customary closing conditions, including Surface Transportation Board approval, and is expected to be completed in the second quarter of 2017. Terms were not disclosed.
HOG will be managed as one of G&W's Coastal Region railways, led by Senior Vice-President Andy Chunko. 'The Heart of Georgia is an excellent bolt-on acquisition that we expect will enhance economic development by providing an efficient lane across southern Georgia', said Chunko. 'Its proximity to other G&W railroads unlocks operational efficiencies, while enhancing the railroads' abilities to serve customers and generate new commercial opportunities across the region.'
Founded in 1999, HOG operates a 350 km network leased from the Georgia Department of Transportation. There are connections with CSX at Cordele and with Norfolk Southern at Americus and Helena, as well as with G&W's Georgia Southwestern Railroad at Americus and with its Georgia Central Railway at Vidalia.
HOG transports approximately 10 000 carloads a year of agricultural and forest products, feed and fertiliser, of which 2 000 carloads are interchanged with G&W's Georgia Central Railway.